Margo Rey is no stranger to chart success; from her last album release, 'Habit' (2012) which we reviewed here, the singles "Let the Rain" and "Between Us" charted in the top 20 in the Billboard AC. A caring Fish Pond family member, she stands out in my mind as a huge advocate of heart-led and natural music, and an inspiration to our global family. She has even gone to the trouble of creating her own genre, Organica, and the Organica Music Group, to make the point; that she recognizes the beauty of an art form that requires hard work, dedication, and a commitment to remain true to the music and to the self.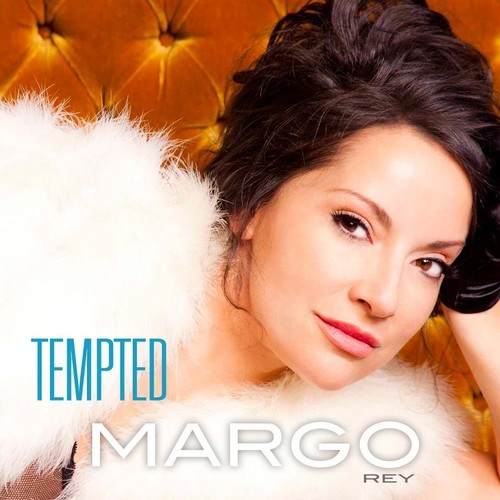 In what turns out to be a super choice of song, Margo releases her own twist on the classic 80's Squeeze number, 'Tempted'. Covers can be risky; with such a popular number (which I grew up with, and so I took the trouble to re-acquaint myself with it a couple of times before listening to Margo's newest single), I was looking for a really excellent take on the original, which was so 80's, so smooth, and so laid back.  I needed something with a punch, something 'Margo'…and I got it. She has the voice and the 'organica' approach down to a tee, producing an upbeat and beautifully executed version, totally for our times, and funky as hell. Have a listen with me.
It's a beautiful sunny day, lovely for music listening, and perfect for music reviewing; when it's Margo, you can be pretty sure it's going to be a pleasure. Straight in with that voice, it takes me right back to my first listen to 'Habit', a diverse album, with each song telling a story instrumentally and lyrically. The keyboard, the accented husky vocal, the runs, and the funky drumming; all a wonderful build up to what is to come. Let the groove commence.
"I said to my reflection
let's get out of this place,
Past the church and the steeple
The laundry on the hill
The billboards and the buildings
Memories of it still"
It's reminiscent of the more upbeat tracks on 'Habit'; a bit 'Get Back', and a bit '10 Reasons', and clear that she owns the song from the very first verse.  Lyrically, it's taking me right back to the 80's and the original, but vocally and instrumentally, this version is an original, a swinging toe-tapper and shoulder shaker, with no doubt. The verse is nicely understated, something of a 3 a.m. listen at Ronnie Scott's in Soho, London.  It makes that build into the chorus so welcome when it comes.
"Tempted by the fruit of another
Tempted but the truth is discovered
What's been going on,
Now that you have gone,
There's no other"
It has me genuinely, and broadly, smiling at this point, sitting in a Northern Virginia library and nodding my head, tapping my fingers on the MacBook (I think that's what the empty space next to the trackpad is for). You can hear the hard work that's gone into production to keep me listening and satisfied, the little harmonies and attention to detail in the mix of every track. It's my compliment to Margo, honestly, that I started hearing the very faintest reflections of the seminal 'Tom's Diner' by Suzanne Vega. I love it when a song has hints like that, and can spin you off into memories of other classic works.  It's bringing on musical immersion :-).
Another verse, another chorus, just as punchy, and it's noteworthy to me that, as on 'Habit', the musicians and the band as an entity are so superbly tight, you don't notice individual instruments unless you really listen out for them; it works as a piece of music, supporting the main feature, Margo's vocal.
At just the right time, the song comes down to the bare bones again, highlighting the brilliant lyric of Al Turney:
"I bought a novel, some perfume
A fortune all for you
But it's not my conscience
Hating to be untrue
I asked of my reflection
What is there to do?"
That lovely keyboard is back again, bringing the song to a swinging and jammin' climax, soaring harmony vocals complementing; and another signature 'Margo' touch, with the briefest of warning notes, the song closes. It's a super snappy ending to a track that had me wanting to dance along to it all the way.
From my perspective, this deserves all the credit it is currently getting. Margo is not a one-hit sensation; she is a proven phenomenon, musically well-educated, hard working, a principled artist, no stranger to adversity, and a believer in the quality of real music. This is a lovely memory of my childhood, it pays homage to the original, and at the same time it is a fresh new work of art and an excellent follow up to the epic (13 songs worth) 'Habit' in 2012. I look forward to seeing where sales go from here.  I expect to be looking up to follow its path.
I suppose the general public agrees. Debuting at number 28 on the Billboard AC, Margo has once again put her unique stamp on a track which I'm sure is set to run and run. Margo, your Fish Pond family are proud of you, and with you all the way to the top.
David Mark Smith
Founder and CEO, The Fish Pond
www.globalmusiciansfishpond.com
You can buy the single on iTunes here.
You can read more about Margo on her Fish Pond profile here.
To keep up with Margo, check out her website here.