As U.K. comedian Russell Howard wisely said in his documentary on what it was like to be an arena-level entertainer during a pandemic – locked down, with little to do but be frustrated and write new material – there's a "golden age of entertainment" coming. The U.K. was particularly isolationist, and he predicted a pent-up massive supply of new and amazing material welling up, and an equally massive demand from a general public who hadn't been to live shows in over a year.
I'm a musician and an avid live music listener, and I hadn't been to a show since 2019. I lived through a pretty good age of music in the 1990's, seeing Slayer, Anthrax, Metallica, GnR when Paradise City hit, Testament, Megadeth, and many more. Without doubt this was the most positive energy I've ever felt about a show in my life. Great sound mixing by my mate Rusty Timberlake, four really different sub-genre metal bands, all of whom executed as if their life depended on it. Put a guitar legend like Malmsteen with this much caliber and a superb sound engineer like Rusty, and you get a banger of a 4-and-a-half hour evening. A "golden age" dawns indeed.
For those that know The Fish Pond – one world, one family, one musical heartbeat – this review is very much about the human element of these musicians.  The music was superbly executed, nearly 5 hours flew by.  Several masters of their crafts.  But what about the people, and some insight into what they meant to me?
The venue, the Tally Ho Leesburg – a converted movie theater turned local music venue – works well for gigs like this, especially if the crowd is in good form, and the sound is mixed right, and at the right volume.  They have a VIP area upstairs, food, a reasonable bar (Guinness all night for me), and close up enough to feel like the interaction with the artist is real.  A good comparison is like a small version of the 930 Club in D.C., or the Fillmore, Silver Spring, professionally run and worth a visit.
Jessikill – Jessica Espinoza (Lead Vocals), Jyra Alejo (Guitars, Vocals), Arturo Knight (Bass, Vocals), Jordan Ames (Drums)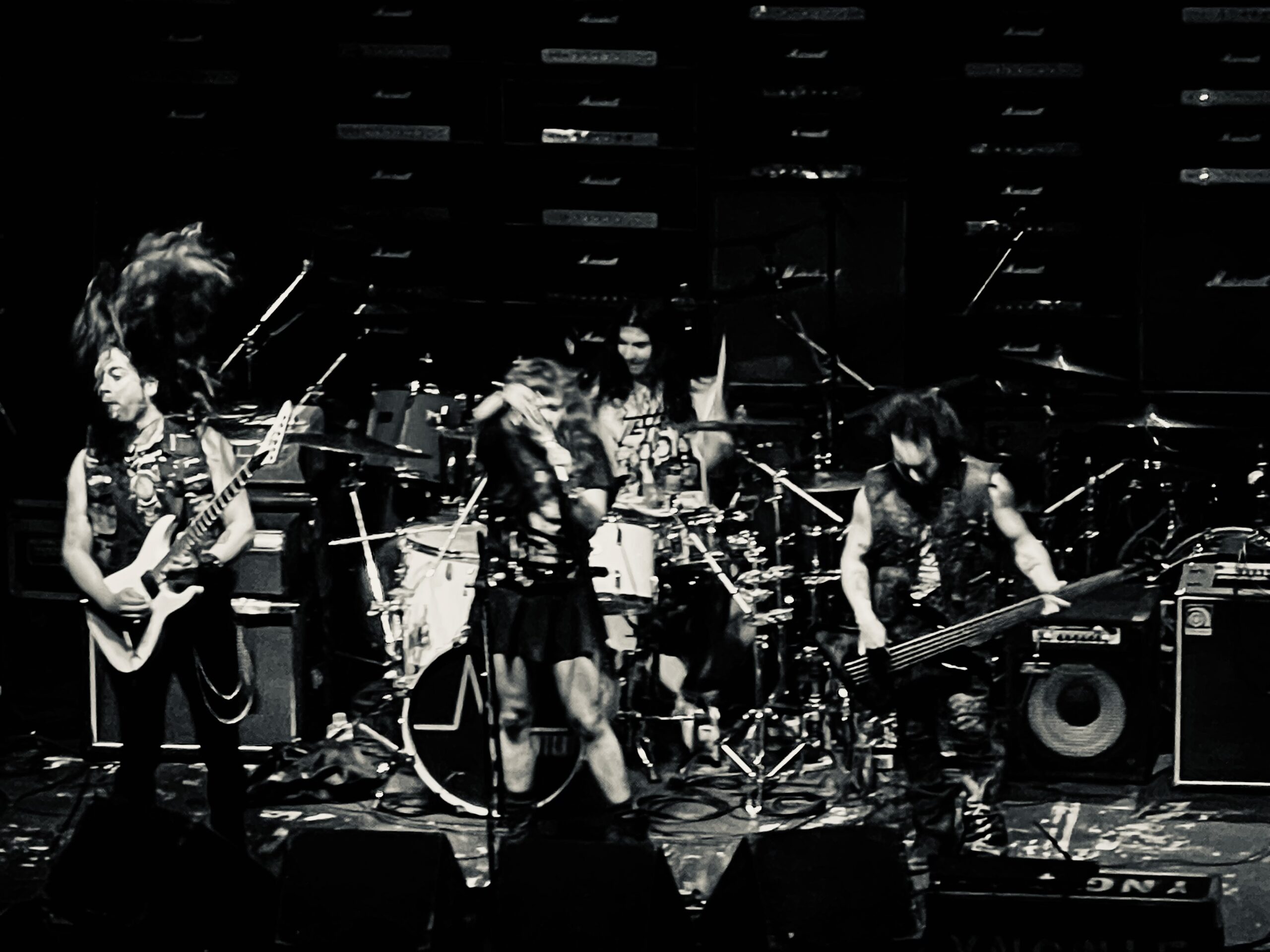 I met Jessica, namesake of Jessikill, outside the venue prior to the gig.  Full of energy, enthusiasm, human connection, she was quick to shake my hand and introduce herself to an interested fan.  Explaining that they hit the stage right at doors open (7:00 p.m.) and had 15 minutes to blow the early-doors folks away, I leaned on a review from All Music Magazine from Hartford, Connecticut a few days earlier, for my cues.
As the first band, let alone metal band, I'd seen live in over 2 years, I can honestly say 'remarkable'.  With only 3 songs, they blasted out of the gate with "Lightning".  A well-mixed metal intro, they animated just like Slayer and the lineup of Araya, King, and Hanneman (RIP) back in the day.  If there was a metal equivalent of "whistle notes", Jessica had us from the get go.  A fresh execution of old school metal.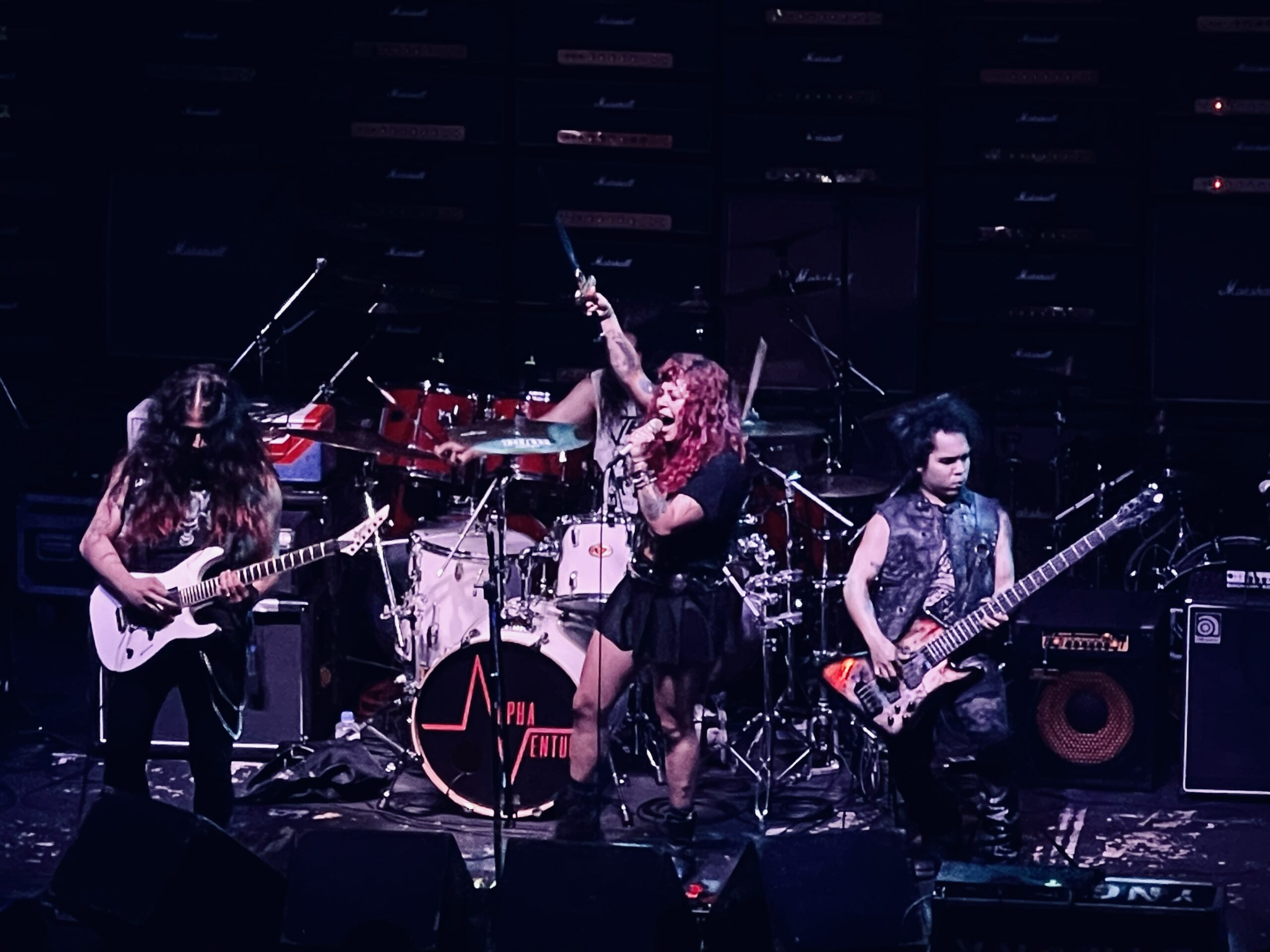 I disagree with All Music Magazine in the go-to Iron Maiden reference – too easy and perhaps a bit lazy – they are unique, but for me had bad boy elements of Sum 41 taking Metallica and making it better back in the day.  Fast, furious, sword wielding, middling with "Right Now" and finishing up with "The Beast", the energy despite having an early-doors crowd was delightful.  It was a pleasure to share some space as they moshed and sang along to Yngwie right next to me at the end of the night.  These guys are real, working their asses off, and super-talented.
Check them out on Facebook, and their YouTube channel for more.
Alpha Venturi – Sean Quinn Hanley (Guitar, Vocals), Tyler Stackhouse (Drums), Edward Rojas (Bass)
I'd been in touch with Sean since a few days before the gig.  His proud mum, going by FB moniker 'Loki Longstocking', is all about the Fish Pond mentality, promoting hard-working musicians, including but in no way limited to her son's efforts, tirelessly.  Sean embraced the contact from the start, agreeing to meet "for a drink" – a great reference to my Englishness – around a gig.  Bear in mind these guys are on the road constantly for this few week period, Sean had something akin to laryngitis, and they're hustling to make ends meet as serious contenders in the metal game.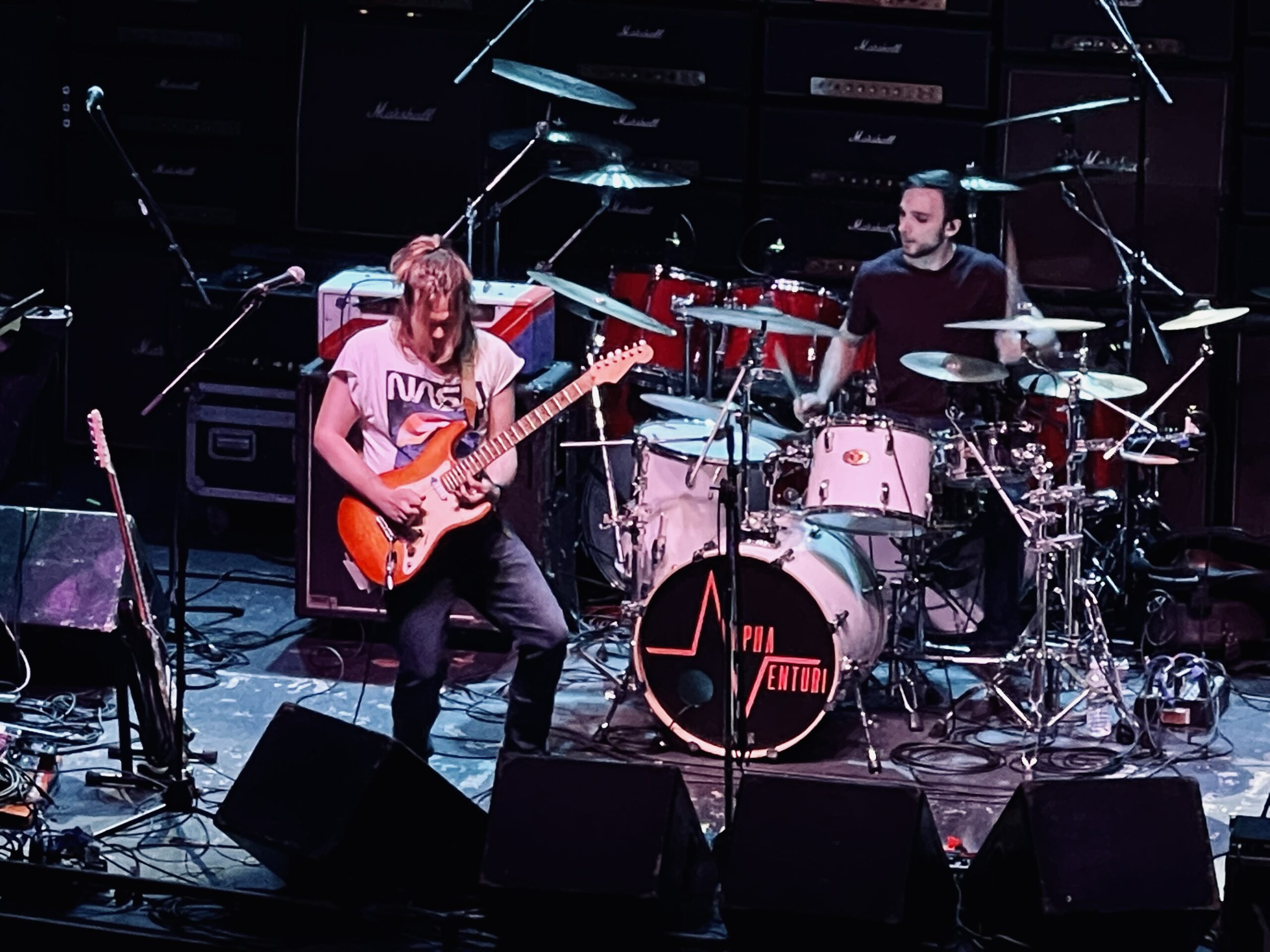 I met Sean sitting outside the venue noodling on his axe.  I can relate, as a former performing musician (my BC Rich Ironbird stayed with me these last 30 years), his energy is effervescent.  As with Jessica, he graced me with a handshake and a couple of minutes to chat, a privilege given that pre-gig jumpiness to make it a great show on the Malmsteen tour.
Just when he finished doing neck-long runs on that guitar in the sunshine outside, he's pushing Marshalls into the venue for Jessikill, all about being the jobbing musician and team player, a consummate pro.  His energy is infectious, manic, I'm really dying to have a beer with this guy and find out where he draws it all from.  He tells me he hopes I like the set, it's all instrumental thanks to an overwork-related (I suspect) cough.  I wonder if they can pull it off.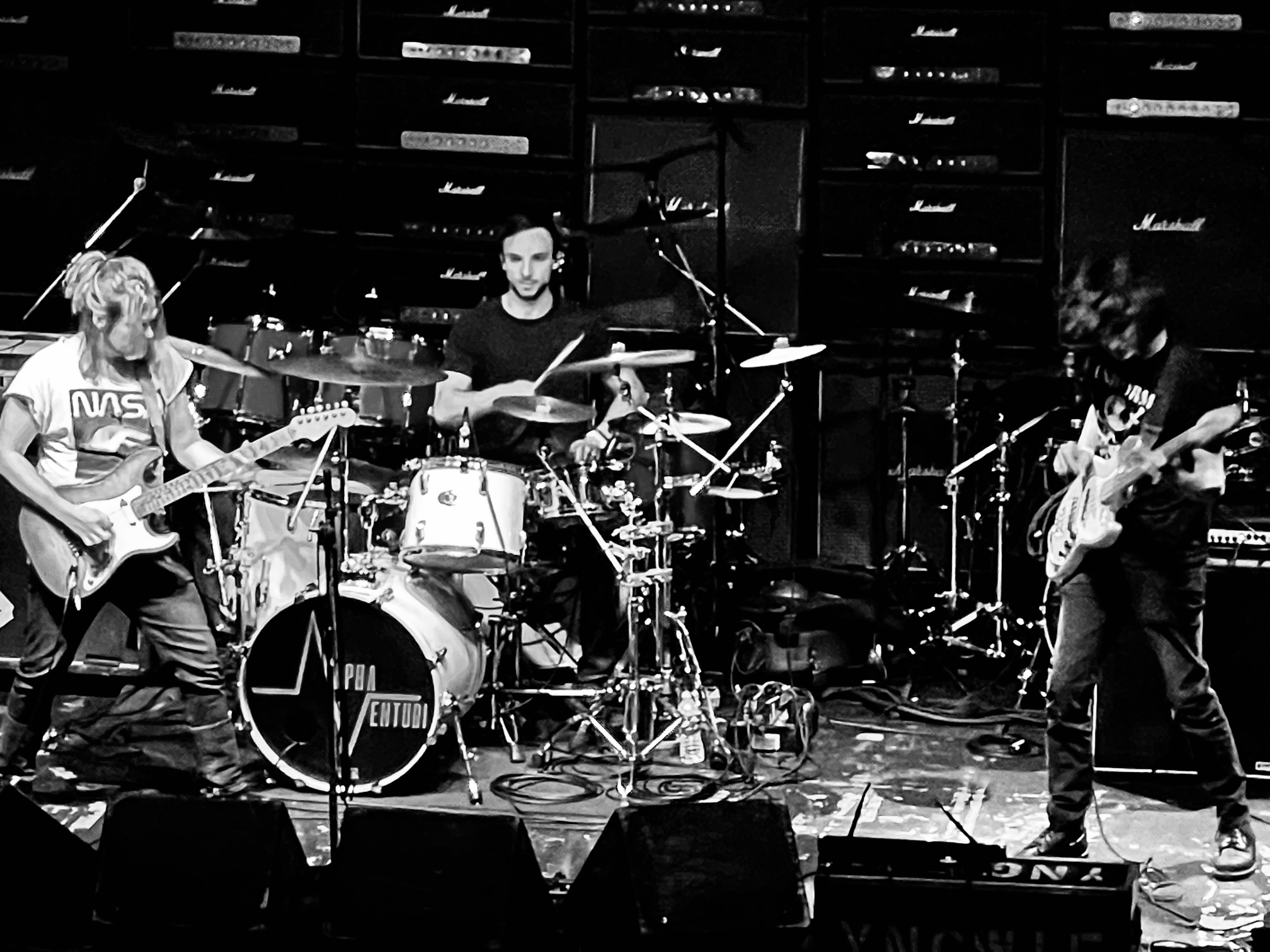 From the moment they hit the stage it's obvious they can;  after a brief intro – I think about all Sean's throat can manage – they launch straight into "Stop Runnin".  The way that bass is mixed is superbly funk-metal, Edward's slap style calling to mind a re-invention of Flea, a great foil to Sean's guitar.  No doubt he's a master of his craft, all over that fretboard, beautiful rhythms and runs as they power through "Break the Hold" and "Sweet Serrated Flame", with time for an awesome prog-metal guitar solo.  I love this kind of mixed funk-futuristic metal feel that they have, a solid capable three-piece.  Even without vocal it's the re-birth of Cobain – perhaps unfair as it's more than a little based on Sean's look – but still gave me that vibe of what Nirvana were doing for the alt-rock scene with early grunge the early 1990's on the West Coast.  I can't wait for their return with the vocals intact next time and to actually have that beer.
Check out Alpha Venturi's work on their website, Facebook page, and their YouTube channel.
Kurt Deimer – Kurt Deimer (Vocals), Phil X (Guitars, Vocals)
I was super-interested in Kurt and his namesake band, I knew the least about them of the four, but after doing a little research, he seemed a strong choice to bridge to the headline.   Add the enormously capable and versatile Phil X of Bon Jovi and stadium fame, with Rusty's front of house mix, and makes an exciting add to the lineup.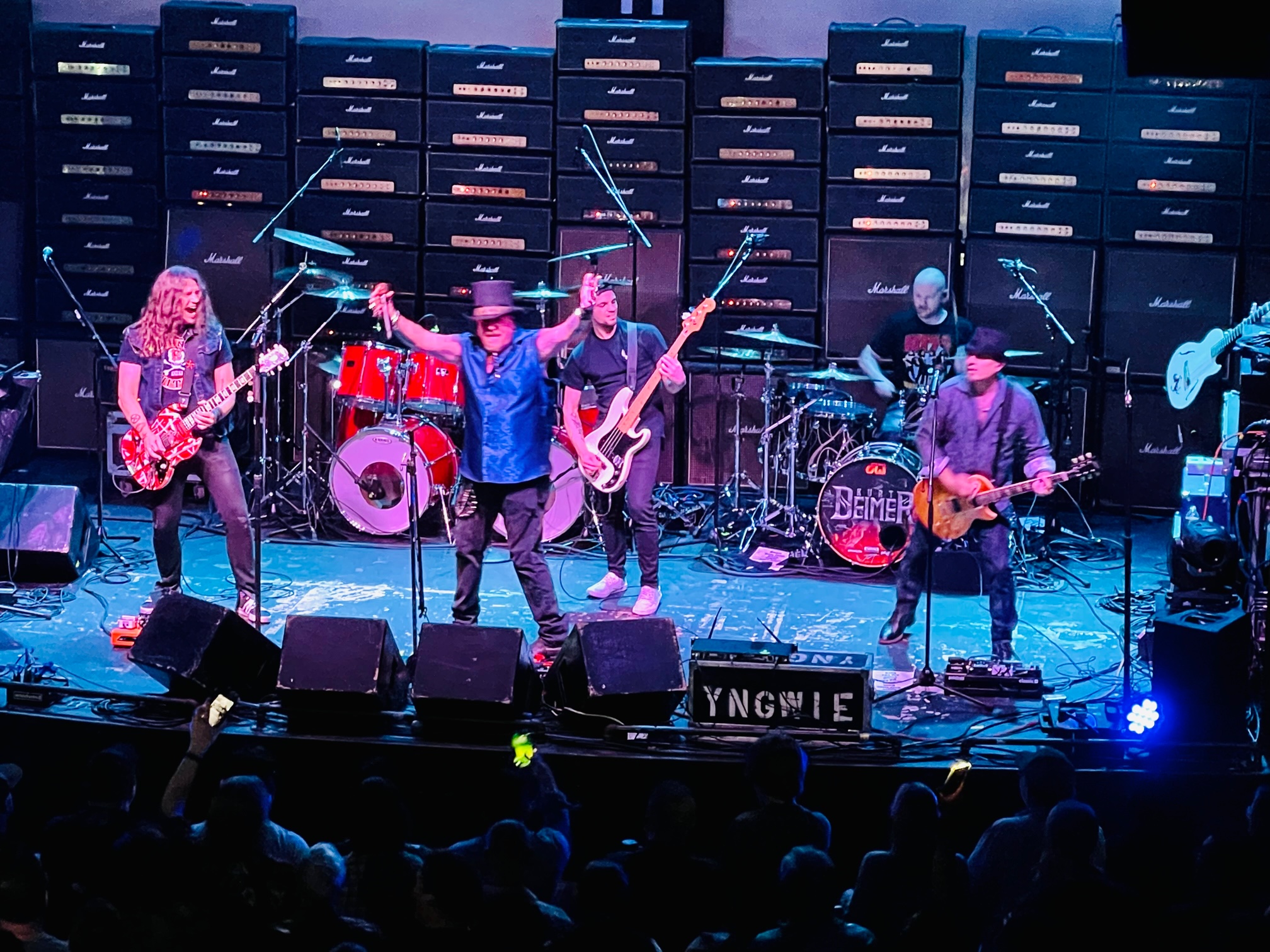 As it was, they lived up to all of the hype and more.  Again from All Music Magazine, I was anticipating the "Talk Rock" aspect, but actually it boxed them in more than I liked.  Kurt comes out blazing, all blue silk and top hat, a great low-end vocal reminding me of General Zod back in the day (Zodiac Mindwarp and the Love Reaction), who I caught back in 1993 in the U.K., with more than a hint of Myles Kennedy who's been working the circuit with Slash for a number of years now.  Phil X is a great sidekick for Kurt, his guitar selection, including what must be an Eddie Van Halen tribute pattern in there, is extensive, and his harmonies and guitar work strong.  I find myself thinking back to how dismissive metal fans were to Bon Jovi back in the day, but the guitar work, lead and harmony vocals, were always outstanding.  Same here.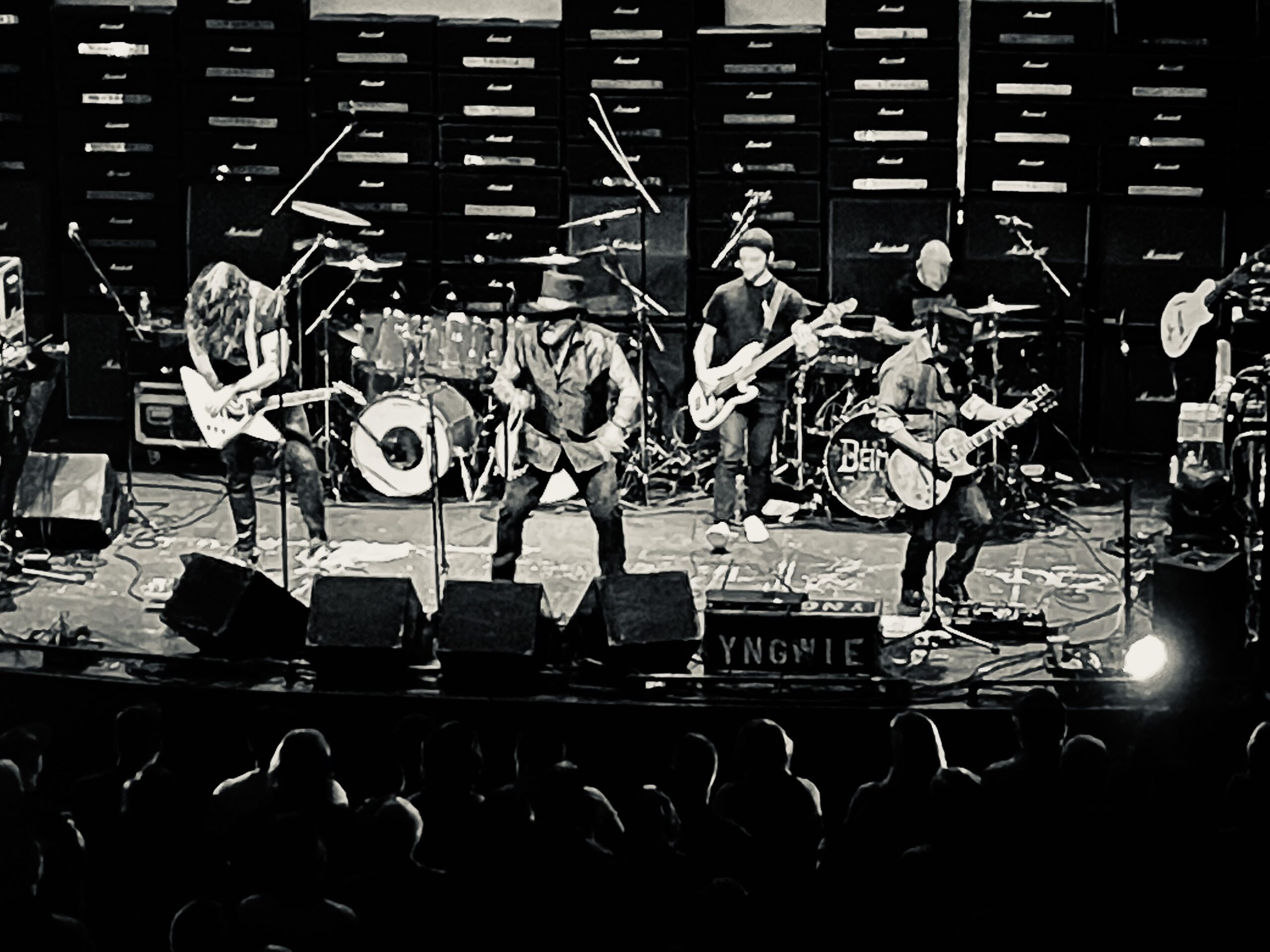 All that reminiscing done, yes, they have strong roots to point back to, but bear in mind we're on to our third genre of metal for the night, and these guys are defining their own sound.  They are a superb, capable, workmanlike band in their own right, powering through some awesome originals like "Only Time Will Tell", "Naive", "Hero", and a lovely cover of Pink Floyd's "Have a Cigar", which Kurt's vocal complemented perfectly.  You can find out much more at Kurt Deimer's website, Facebook page, and YouTube channel.
If you want a good taste of the set ender, and also what's dubbed Kurt's "Talk Rock" style as well as Phil X doing his thing, check out the official video for "Hero" on YouTube.
Yngwie Malmsteen – Yngwie Malmsteen (Guitars, Vocals), Nick Marino (Keyboard, Vocals), Emilio Martinez (Bass, Vocals), Brian Wilson (Drums)
My experience with Malmsteen was as an aspiring metal guitarist back in 1985, as a teenager with my first Washburn – a G8.  My influences back in the day were Angus Young, Philthy Animal Taylor, Eddie Van Halen, Richie Sambora, Billy Duffy, Adrian Smith and Dave Murray – then of course the later 80's came along and I got more familiar with Scott Ian, Dave Mustaine, Jeff Young, Marty Friedman, the King/Hanneman combo, and so many more.  It was a great time to be a young guitarist, and it wasn't long before I bought my first BC Rich, a fire-engine red Ironbird, that I have with me to this day.  Somewhere in that period I bought "Rising Force" (1984) and my life changed.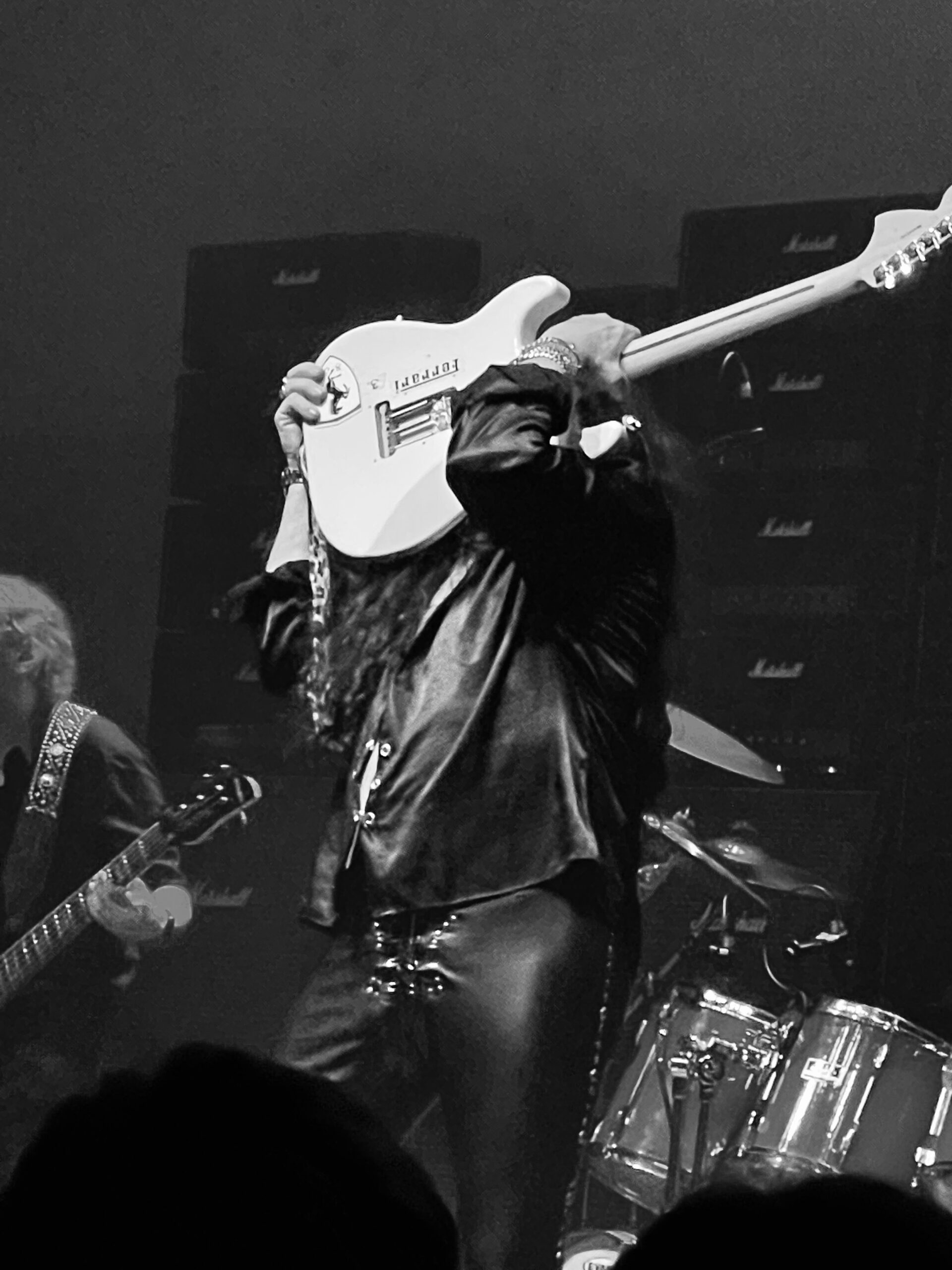 Hearing that the man is coming to Leesburg, VA, frankly was a dream.  I've been lucky to have the access we do here near to Washington D.C., but there's nothing like a small town small venue with this many Marshall stacks, when a guy with 22 studio albums rolls in with his "Parabellum 2022" tour.  Having seen a lot of live metal over the decades, that kind of speed and technicality can be notoriously – and often forgivably – inconsistent on an "off night".  For example, Metallica and Megadeth weren't album precise, and that was sometimes part of the charm; Slayer on the other hand were always, always album-tight to a fault.  But the crowd is well warmed up, and either way it's going to be a glorious end to the night.
From the outset, he bursts onto the stage with that intimidating wall of Marshall cabs behind him, straight into "Rising Force".  The level of theater is so much a part of the Yngwie Malmsteen experience, and it's immediately clear he's going down the well-practiced, precise, musicianship route tonight.  Nick covers the vocal really well, Malmsteen is all over his trademark sweeps and arpeggios, and he's won the audience from the start.
There's very little conversation with the crowd, it's not really needed tonight, we're all-in already, and looking for what I think Leesburg rightly assumes is a once-in-a-lifetime small venue experience with this guitar legend.  Ripping through classics, the man is here to deliver, and deliver expertly.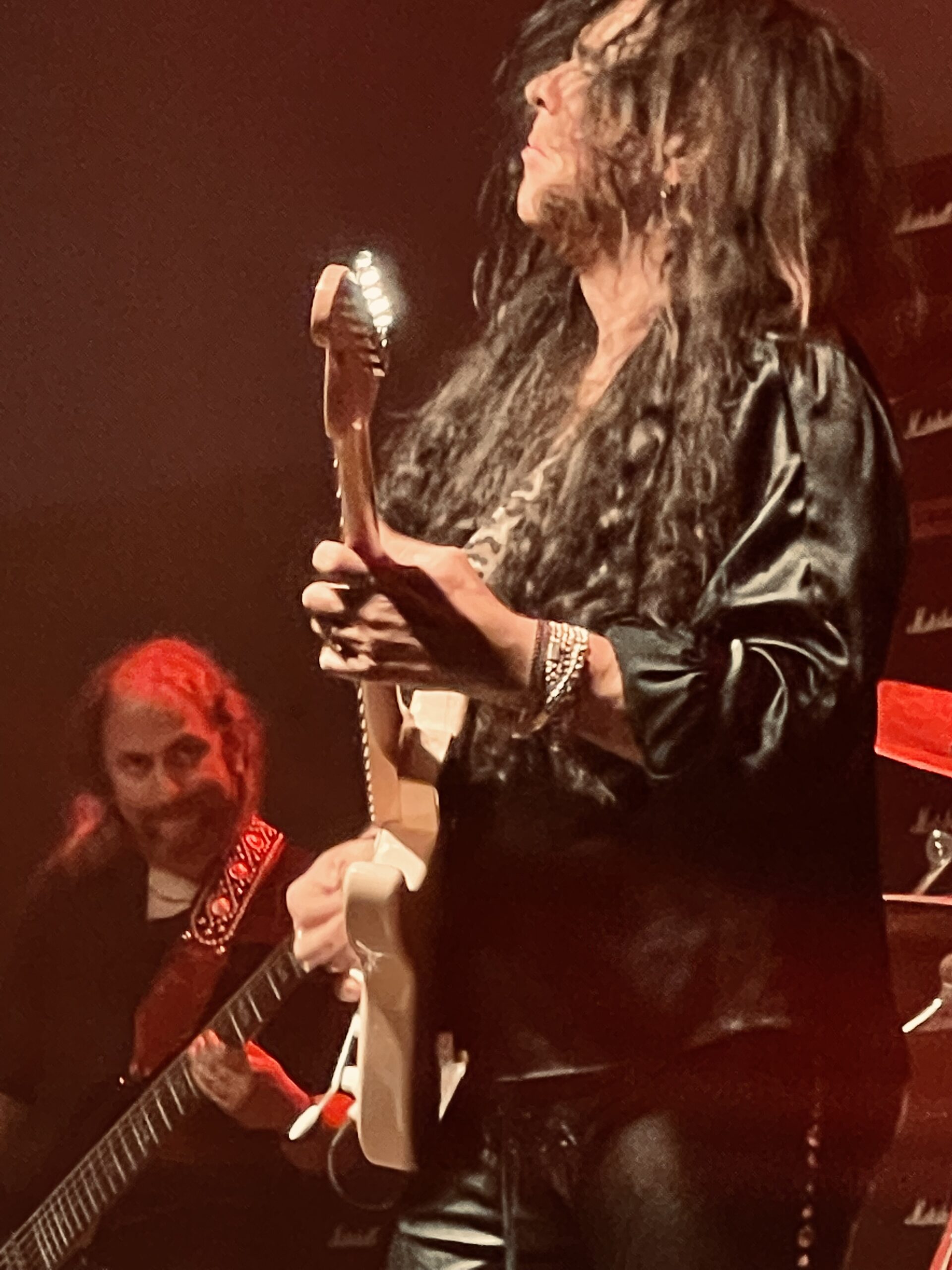 One thing that's really amazing to me; I'm air-guitar jamming out to this stuff with Jessikill singing along to my left, and suddenly realize it's 11:30 p.m.  He came on at 10:00 p.m., doors were at 7:00 p.m.  The physical demands of shredding so fast, so technically, for so long, is a testament to an outstanding professional as well as a mainstream entertainer.
He takes time to hurl his second-to-last stage guitar around, hang it from the B-string (it broke, and I grabbed it after the gig, along with a signed pick), throw it up on top of the speaker stack at side stage, fiddle with phase effects, and eventually chuck it to his guitar tech (that guy has a great catch and pitch back) to give us the solo we all hoped for.
Coming back on for a single encore, back to his roots once more with "Black Star", it's been the 4th genre of the night, and a brilliant ending to what's been a brilliant night end to end.  My night was made in that little venue as he burst through the door right next to me to hit the green room upstairs, and I get a chance to at least give him a "well done, great set dude" before he's off, likely not to return to our little town again.
You can find out more about Yngwie at his website, Facebook page, and YouTube channel.
Check out Black Label Brant's capture of 8 minutes of Yngwie shredding in Leesburg, VA, here.
Thanks to all the bands and the human beings in all 4 working so hard to entertain.  A golden age of entertainment is upon us, and you guys brought 100% with you to make that happen, and I trust you still are.  May the best of energy, and tireless shredding fingers, be with you all, the metal collective of the year.
One world, one family, one musical heartbeat.
David, founder, Global Musicians Fish Pond