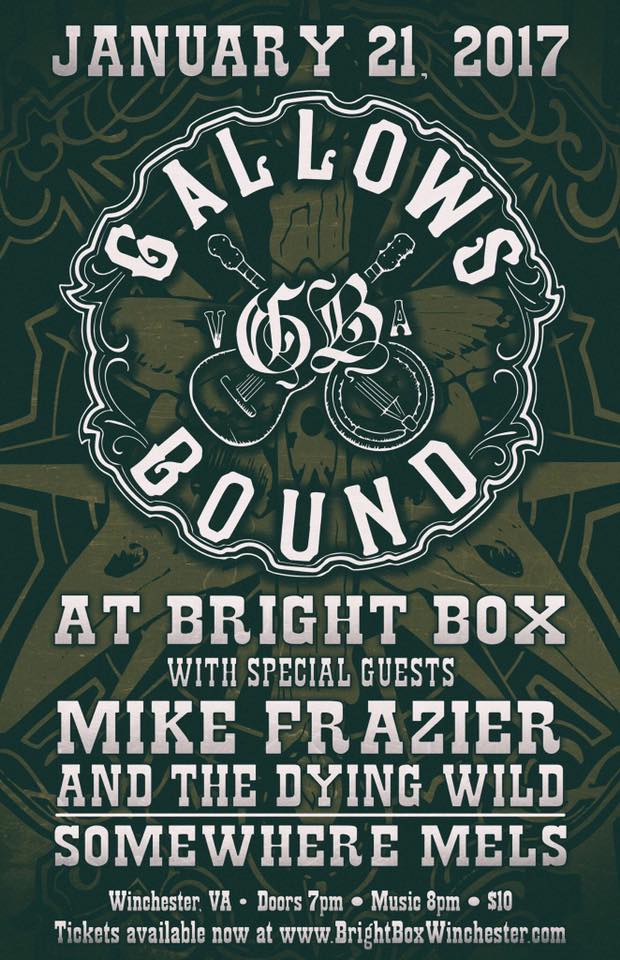 When I first heard that Gallows Bound and Mike Frazier & the Dying Wild – both early members of our Fish Pond musicians family – were playing their hometown, sharing a stage, I couldn't have been happier. Two totally different yet complementary styles, Gallows Bound describe themselves as "a six piece Appalachian folk-punk/bluegrass outfit", while Mike is the classic pop-punk kid from down the street made good. Hosted by the Bright Box Theater in Winchester, Virginia, they couldn't have used a better venue, designed for local bands, for the best possible sound quality, and perfect for the 300 or so die-hard fans who showed up.
Harpers Ferry, WV, based 5-piece "Somewhere Mels" kicked the party off, relaxed-fit in their "slacker country" genre; they were a creditable warmup act, all three frontmen having a go at vocals capably. Their set was tight, the bass player impressing the most, handling vocals while performing ridiculous neck-long runs, finishing off their 40 minute set with a characteristically humble "I'm sure you haven't come here to see us".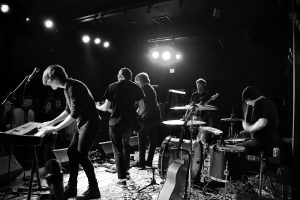 Mike & the Dying Wild take to the stage looking every bit the seasoned rockers they have become, by flogging the east coast touring circuit for the last couple of years. I'll declare an interest here, because I love the pop-punk genre, and I have fond memories of Mike blowing my mind with Random Holiday back in the days (2011) when the guitar tuning was questionable, but he obviously had something special to contribute to the pop-punk world. I have very high expectations tonight. A little reminiscent of the early-days Manic Street Preachers, they are all Les Paul and Orange amps, brash and loud, and (after a little experimentation) tuned and mixed to perfection.
'War on Love' is a raucous and wonderful experience, especially for anyone familiar with their EP 'Virginia Son', the sound recovering with a much better mix after the first track is vocally drowned by the mad guitars. Finishing up with a loud "fuck you" (or perhaps a more sociable "fuck yeah!"), he's straight into EP lead track 'Bones', and a timely rendition of 'Parrot King', Mikey having just attended the Women's March post-inauguration in D.C.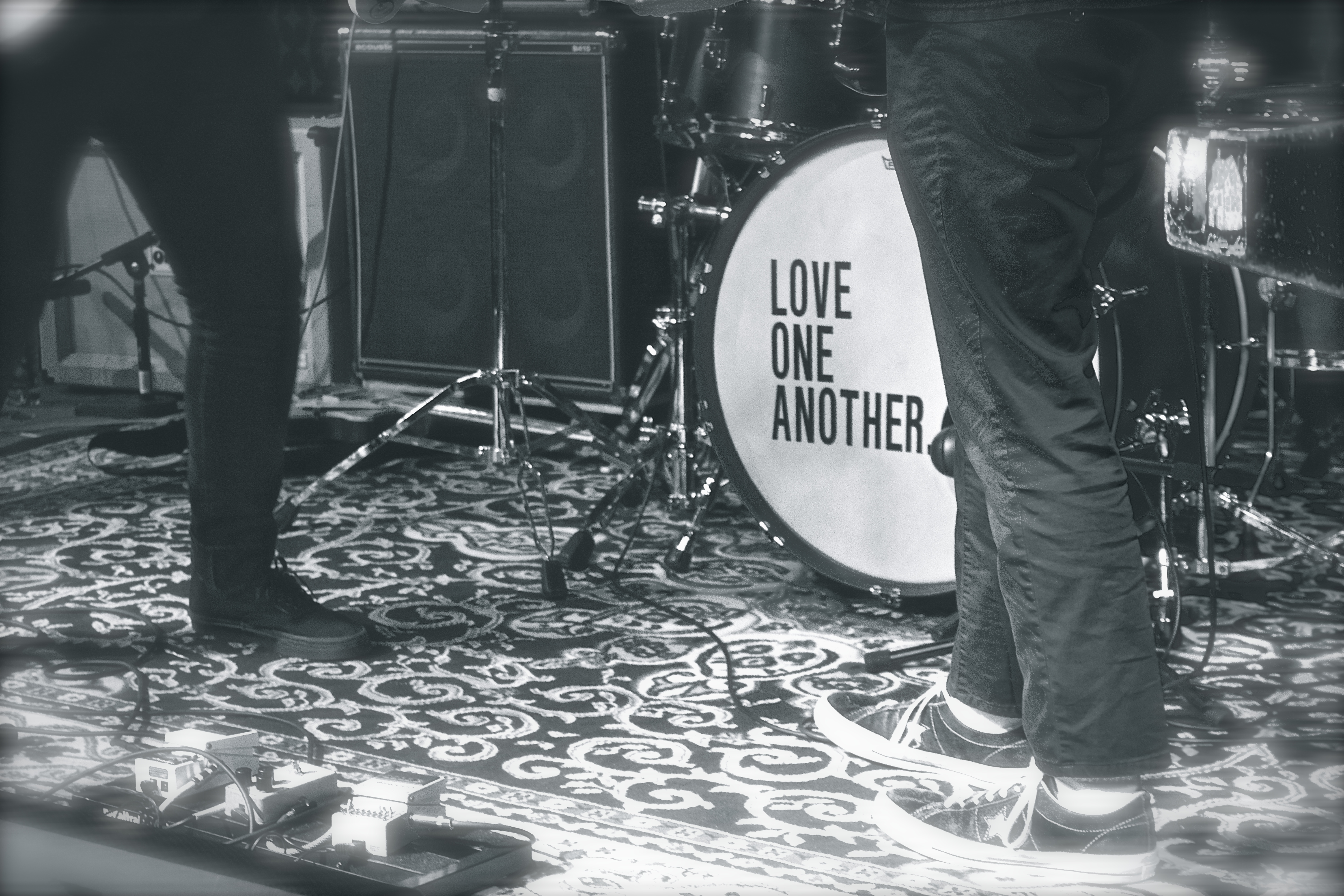 My two favorite moments from a well put together set are his now staple cover of Woody Guthrie's 'All You Fascists Bound to Lose'; a song which so fits the pop-punk rock genre that Mike is pushing the boundaries of, and as appropriate and crowd-rallying now as the 1930's when it was first wheeled out – and the stellar 'Big Sky'. I had only ever heard a 7-minute long studio version, but hearing this well-written rock ballad in the flesh, all piano solos, epic multi-part harmonies, acoustic guitar gold, and meaningful lyrics, was one of THOSE moments of the night.
Humble musicians to the core, Mike and his troupe will continue to deliver a brilliant product while they insist on taking the job so seriously. Well done, lads, a lively and worthy performance from a true bunch of road-hardened pros.  As the drum kit said so well, "Love One Another"; Mike and the guys leave us with a sense of togetherness, brotherhood, and family, having thanked the crowd for their support after almost every song.  Now it's time for the main course.
I've known Gallows Bound since the early days, since which they have toured the country from coast to coast several times.  It's especially a privilege that they don't forget the local crowd and come on to an adoring and cheering crowd.  Aaron's stand up bass and a Johnny Cash-style beat accompany their entrance, as Jordan (guitar and lead vocal), Jesse (guitar and lead vocal), Justin (banjo), Rob (drums), and Forrest (mandolin and vocals) settle comfortably into their domain.
'Del Fuego', their opener, is a fantastic pick, with Jordan and Jesse's vocals mixing as well as ever I've heard them.  From the days of Jordan being a shy vocalist, often positioned a little out of sight, she has come into her own as a brilliant front woman.
With an ask of "ever been drunk" and a reply of "let's get fucked up", the mosh pit explodes and the beer starts flying.  The professional mix at Bright Box starts to give up a bit now under the strain of a balls to the wall six instrument melee; the band is a little thrown initially and it's distracting, but credit to Jordan that she deals with it in stride, and soon the feedback is manageable level and a comfortable 7th member of the band.  'Empty Flask Empty Heart' is a tip of the hat to the early days.  It's meant to sound angry and hammered, a furious drunk, and that's exactly how it comes across.  Jesse brings it to a close spitting whisky and venom, and it's clearly time to slow it down before place explodes.
The set is crafted with all the right dynamics, which gives the crowd enough of a break between frenetic speed-punk-metal-bluegrass, to deliver some beautiful ballads which make the best of the vocals and instrumentation.  Justin's banjo solos are frequent and noteworthy, a reminder of how practiced and workmanlike these guys truly are.  With Aaron keeping such a solid beat, he's the lovable roadie and crowd-pleaser of the band, Jordan's constant joyful grin, Jesse and his insane vocals ripping through the crowd, and Forrest with the biggest non-miked shouting vocal I've ever seen; they are a phenomenon.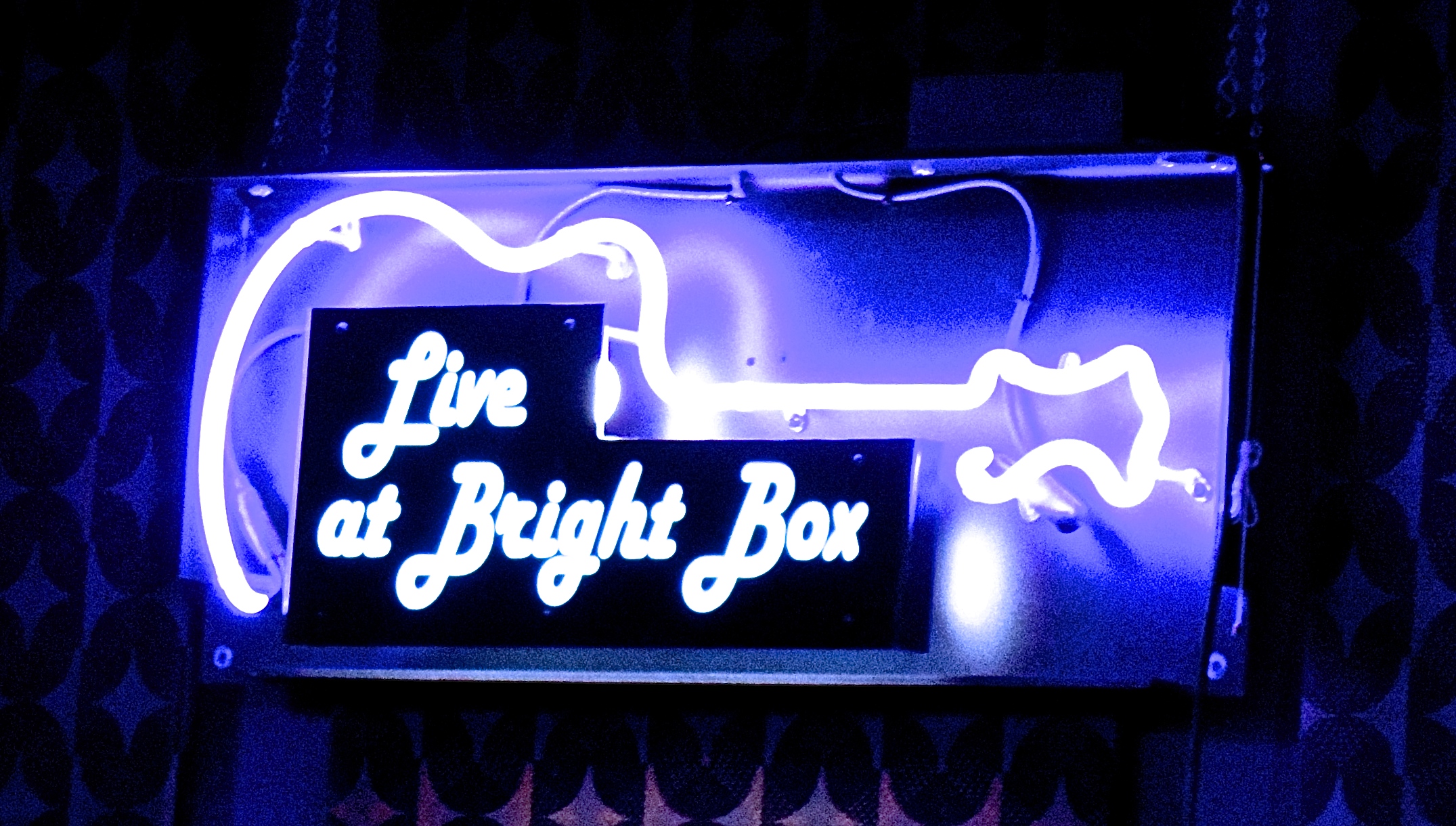 The gig is a audience pleaser, we feel included as part of the family, we are the home crowd for these guys, and they reward us by mixing the old greats ('Love Fury' being a good example) with some excellent new material, including my personal favorite which didn't even make it to the EP ('Rotting Oak').  As a long-time fan of various hardcore genres, I thought this song bore so much resemblance to classic speed metal, with stops, double bass, and unexpected pauses.  It's a unique bluegrass twist on the style which brings the crowd to a frenzy.
'Dominion Flowers', just before the guys wrap it up, is a reminder once again of how accomplished the 6-piece are, with a beautifully bowed double bass supporting soaring harmonies again from Jesse and Jordan.  Without skipping a beat, their final number, 'Dogs a-Howlin', was a return to the frantic, played as fast as they possibly could, as Jesse showers the crowd with water to "keep them hydrated" (and the beer flies back).  With a sincere invitation to join them at the pub after, they end a brilliant night with well-deserved grins.  Gallows Bound is home again, having conquered the States, and have lit up Bright Box like a firework.
You can find out more about Gallows Bound at their website here.  Mike Frazier & the Dying Wild can be found at their home label, Geneva Records.  Somewhere Mels can be found at their Facebook Page.
Photos provided by and credited to Pranam Bai Rose Smith
Review by David Mark Smith, Founder, www.globalmusiciansfishpond.com
globalmusiciansfishpond.com