I first heard Alan Gant playing live as a solo artist in the Shenandoah Valley. My take – a super voice, great range of material, investing financially in a beautiful Taylor guitar, and an engaging personality.  Talking more, I found he's one of that rare breed who is a full time musician.  I so much respect anyone who can live their passion with this much commitment, and starting digging into Alan's previous work.  A native of Paris, France, I discovered a theme in the quality that this guy strives for, thoroughly enjoying his project "Like a Real Boy".  His latest album from a project founded in 2008, is with three other excellent musicians; Alan on vocals and guitars, Jackson Harar on bass, Sterling Pearson also on guitar, and Jack Ivins on drums. Three EP's and one full length album later, they have just released EP "Melodies for the Outsiders" in April 2014.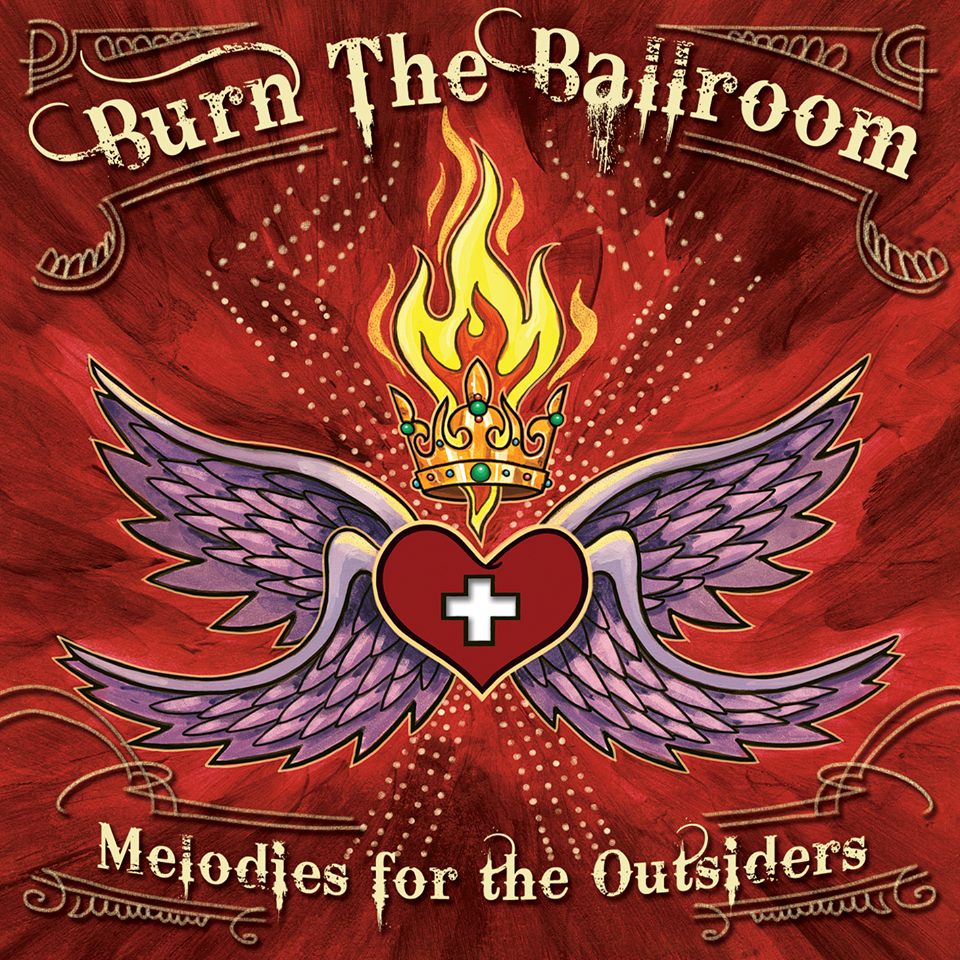 With an eye on Alan's other projects, I was pretty excited about what was to come.  I do admit to pre-conceptions and some expectations, and knowing that someone invests the vast majority of their time in their passion for music, has multiple projects, and invests financially in building the quality of his sound; well, I already wanted a punchy rock album that was going to draw me in.  I wasn't disappointed.  It's a breakout EP if ever I've heard one.  Have a listen and a read and see if you agree with me.
You can listen to "Chariot", the opening number, here as you read:

"Chariot" begins by sliding into Alan's vocal comfortably over a wailing keyboard. It's a good resource to start the album out with, as his voice is a huge asset.  Building the vibe and the urgency, the drums are in, with some lovely rocking guitar sounds as the verse moves forward. I like the fact that the lyrics fit the mood so well, are clear:
"I never thought one tiny spark could set my world ablaze;
But lovers say there's hell to pay when fire feeds the flame"
The song is quickly into a catchy and singable chorus. It's big, powerful, the word that comes to mind is "anthemic". It's reminiscent, the whole mood, of the Manic Street Preachers back in the late 1980's, and even somewhat of "Carter USM" in the same period. I dare you to stop yourself from singing it after a couple of listens:
"Oh chariot,
Come on and fix my broken wings,
Oh chariot, be the song a blackbird sings
Oh chariot, oh chariot
Oh my chariot, carry us away"
I can hear so many little gems mixed into the song. I really like that I can listen to it in its entirety and find something new in every one, and that all of these components simply add to the real "power" of this power-rock or power-pop number. The guitar solo is dripping with as much dirty rock as you could hope for from looking at the pictures of these guys in their bio. I've been listening to this EP over and over, and "Chariot" is most definitely my favorite song. I'm a sucker for a high quality popular rock number, and this one is a real hit to my ears.
The second track "Whisper", has a topical beginning, given Alan's roots. It's a European melody accompanied on the accordion, throwing in a little Spanish guitar to the mix during the first verse. It's a waltz beat with a twist; suddenly bringing in a huge guitar sound, it's not quite thrash-metal, but its close to a couple of the heavier concept bands (like Cathedral) I've heard on the metal scene. Musically it works, as the song dances back and forth between this immense and weighty iron wrecking ball and the cleverly mixed "Euro" acoustic sound.
As if to underline this quirk, about two thirds of the way in, the song turns to a 4/4 beat, double times, Alan lets out a very metal yell, and the band lets loose with double bass and guitar which would have made Dave Mustaine of Megadeth proud. I really enjoyed the contrast through this track, as it blends so many styles that I like in their own right. In the last 30 seconds, they even throw in a little Electronica, which is an added bonus from a complex and very enjoyable song.
Here's third track "Crazy" which so well reflects Alan's multitude of writing and performing styles that he brings to the table:

I've included this one because it reminds me of watching Alan's solo performance. From the first upbeat guitar rhythm, this song has me hooked. It's got all of the power of the instrumentals and style of the whole band, but it's a very radio-friendly pop song which brings in all of the best of the 1950's for vocal harmonies, techniques, and hand-claps. It makes it a very danceable and attractive number:
"I'd say crazy doll, but you got something different,
I'd say complicated, that's your kind of rhythm,
I'd say lost, and you'd say love,
But you're crazy not to see,
That you're crazy just like me"
I'm really liking the blend of styles at this mid way point in my afternoon listening. It feels well thought out, and has brought me from power pop, to metal, to the 1950's already. It's what makes the album exciting for me so far – it's celebration of diversity. I also like the fact that the lyrics, while well-written and part of the art, are not too deep, so I can focus on the song as a whole. Sometimes it's great just to rock out on a Sunday afternoon.
Next up is "Witch". By far the heaviest number on the EP, the guitars sound solid and as crunchy as broken beer bottles from the outset. I have to confess to a love of this style, it's power-metal at this point (and yes, I use the word "power" often and advisedly). A driving song, it's very well constructed from a drum and bass perspective, with some awesome shredding throughout, and a beautiful guitar solo thrown in, highlighting the kind of skill that has gone into the creation of this EP. This is the loud and carefree song of the bunch, and it's well-placed four tracks in. It leaves me ready for their final track.
"Believe" is a strong final number for the EP, interestingly re-mixed by Kyle Burns so that it appears twice. It's another number which is hard to pin down to a genre; it has it's fair share of rocking guitar, but it feels electronica-based even in the original version. Reminiscent of Ola Weel Skram and Leon Frick out of Norway, I have always liked clear guitar-driven tracks like this one. The fact that it is broader than more traditional rock simply gives the song more appeal for me. The remixed version initially baffled me, but in fact turns out to be such a different take on the song, that it's a nice little end to my Sunday afternoon to listen to both next to each other to compare them.
All in all, Alan and the lads of Burn the Ballroom have produced a very solid EP in 'Melodies for the Outsiders'. I'd say it's a good reflection of the ongoing quality of Alan's work, and on the image that the band is striving to put out there. What strikes me particularly, in summary, as special about this work, is the following; the vocal is first rate, the genre mixes and changes are clever, diverse, and fit well together; and the quality of the production that has gone into the final output is admirable – I would almost say symphonic. I hope that EP sales reflect the amount of blood, sweat, and tears that have obviously gone into this EP's creation. From my point of view, it's a strong recommend to buy. If you're on the East Coast, check them out live as well; to close on Alan's words: "the guys are pretty wild".
You can buy the EP at iTunes here.
You can read more about Burn the Ballroom at their Fish Pond profile here or at their website here.
One world, one family, one musical heartbeat.
David Mark Smith
Founder, Global Musicians Fish Pond
Singer/Songwriter, My Lucky Fish