Deni Hlavinka is a Fish Pond original. I've made no secret of the fact that I think she's the closest thing to a musical genius I have ever had the pleasure of listening to. So when she went to study at Berklee back in the fall of 2011, and met Chris West (who she had already worked with), Bermudan and absolutely amazing vocalist, musician, and all around nice guy, it was a musical match made in heaven. On the 18th May 2013, on the closing leg of a 4 state tour supporting Melissa Ferrick's full album release of 'The Truth Is", The Western Den played 2 shows to a packed house at Jammin' Java in Vienna, VA.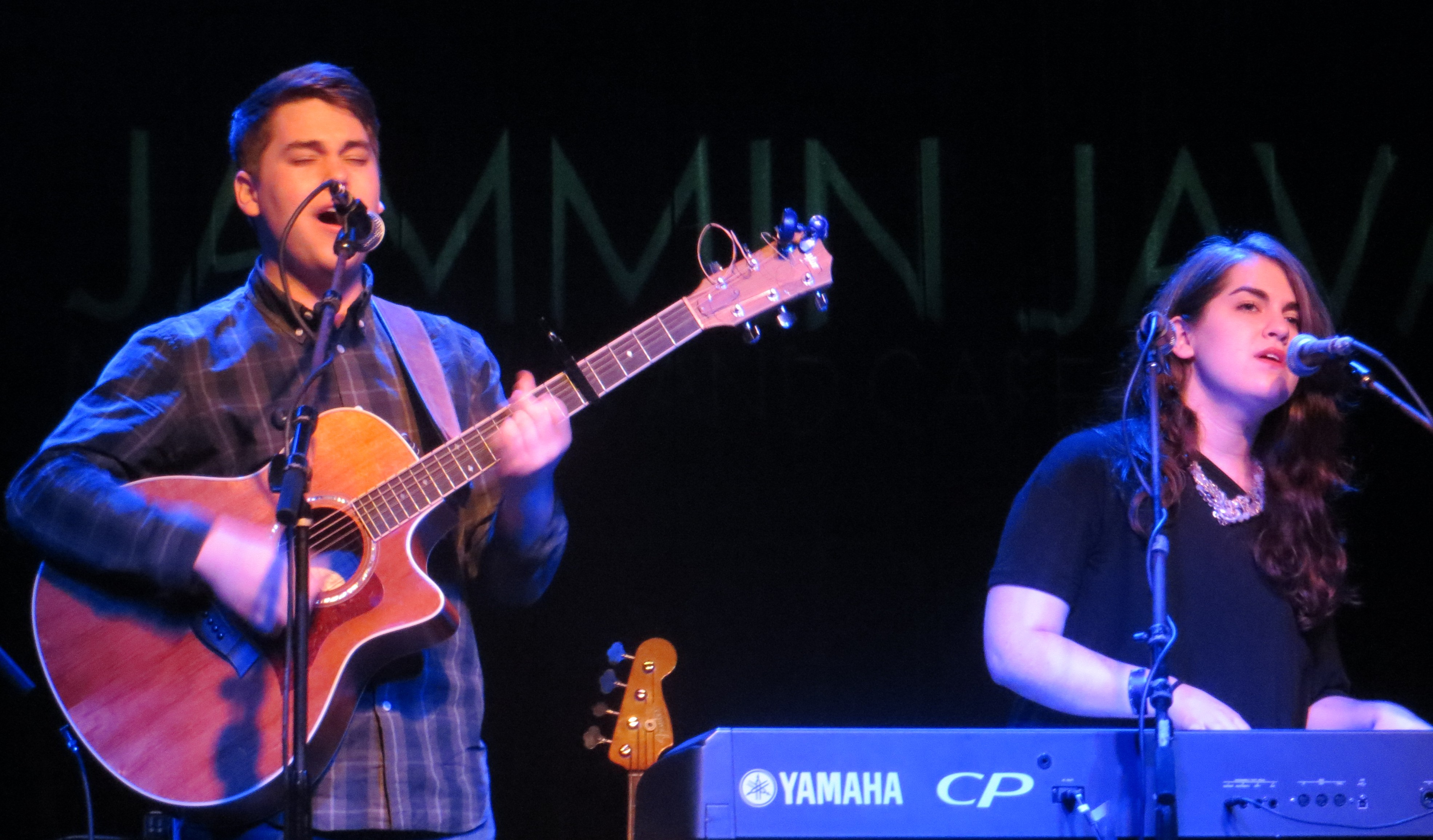 Meeting these guys again is fabulous. I last saw Deni and Chris (our first meeting) the day after Thanksgiving 2012, when they played an intimate little gig at a coffee house in Winchester, VA. The setting has changed, but the personalities have not. I meet them at the merch table before the show, and Chris and Deni are exactly the  same humble, grateful, enthusiastic, loving souls, they have always been, and always will be.
They take to the stage, a well-intended mysterious musical start, until the sustain pedal craps out (it's not plugged in). Actually it's an intimate introductory moment, memorable in a good way, an ice breaker which allows Deni to "do her thing" and draw the crowd in. Within a minute, they launch into their opener:
"I am not the one,
who can bring you to the altar,
I am not the one who can free you
from your faltering heart"
It's perfect from the outset, typical Chris and Deni, at its heart a beautiful, mesmerizing vocal from both; clearly they have worked and worked to get to the perfect harmonies they are achieving, amidst guitar harmonics and beautiful piano licks galore.
'For the Sake of Seeking' comes next, and introduces the EP. Bringing the brilliant cellist Ro Rowan (pictured) into the performance, once again the vocal is haunting and echoey, using not only lyric but a wealth of well planned "ooh" and "aah" to bring a symphonic feel to the song. Deni's songs have always been vocally very clever (listen to my favorite of her early works, 'The Dove and the Boulder'), so meaningful and packed with metaphor and classical reference, and it's clear that she's brought all of that and more to her partnership with Chris; Chris, who adds a huge depth that puts the "West" in "The Western Den", with a voice that's smoother that silk, and a feel for the guitar – and everything it can do – that I've rarely seen in a lifetime.
'The Minister' is their third number, and by now the crowd are so with them; louder applause, they realize they are witnessing something special, and Melissa must be pleased. Warming a venue-full of people is exactly what a rock-solid support band needs to do. It's a remarkable ballad; Chris leads more in this number, showcasing a vocal that I've not heard before from him, powerful and comfortable. The cello adds a swell like the ocean tides to the number, as it builds into a wonderful guitar and piano crescendo;
"What can make the minister fall?"
Their next number, 'Desert Ground', was written, as Chris announced, about a little boy who witnessed a hot air balloon crash over Egypt; a very recent and painful tragedy which brought Cairo into the press this spring.
"Come on down to the desert ground"
It's a back and forth between Chris and Deni, using the best of both of their voices; a sad theme, and yet a compelling work which pulls you in. The outstanding feature of this song is the particularly emphasized use of Deni's two vocal mikes, one with a huge echo for that soaring backing, and one clipped, crisp, and capturing every detail for the lead on the verses. Deni at her absolute best vocal I have heard, Chris proving that he has an amazing songwriting skill which will produce and produce.
The next song is a fascinating story; Melissa Ferrick, the headliner and songwriting teacher at Berklee accompanying on percussion, has a particular connection, because this is the first song Deni turned in for a grade in Melissa's class at Berklee. As with so many of Deni's early work, it includes several references to the sea, the Virginia shoreline, shifting tides, and waves. It's lovely, Melissa is clearly incredibly into it, mouthing the words all through as she adds some perfect percussive ripples.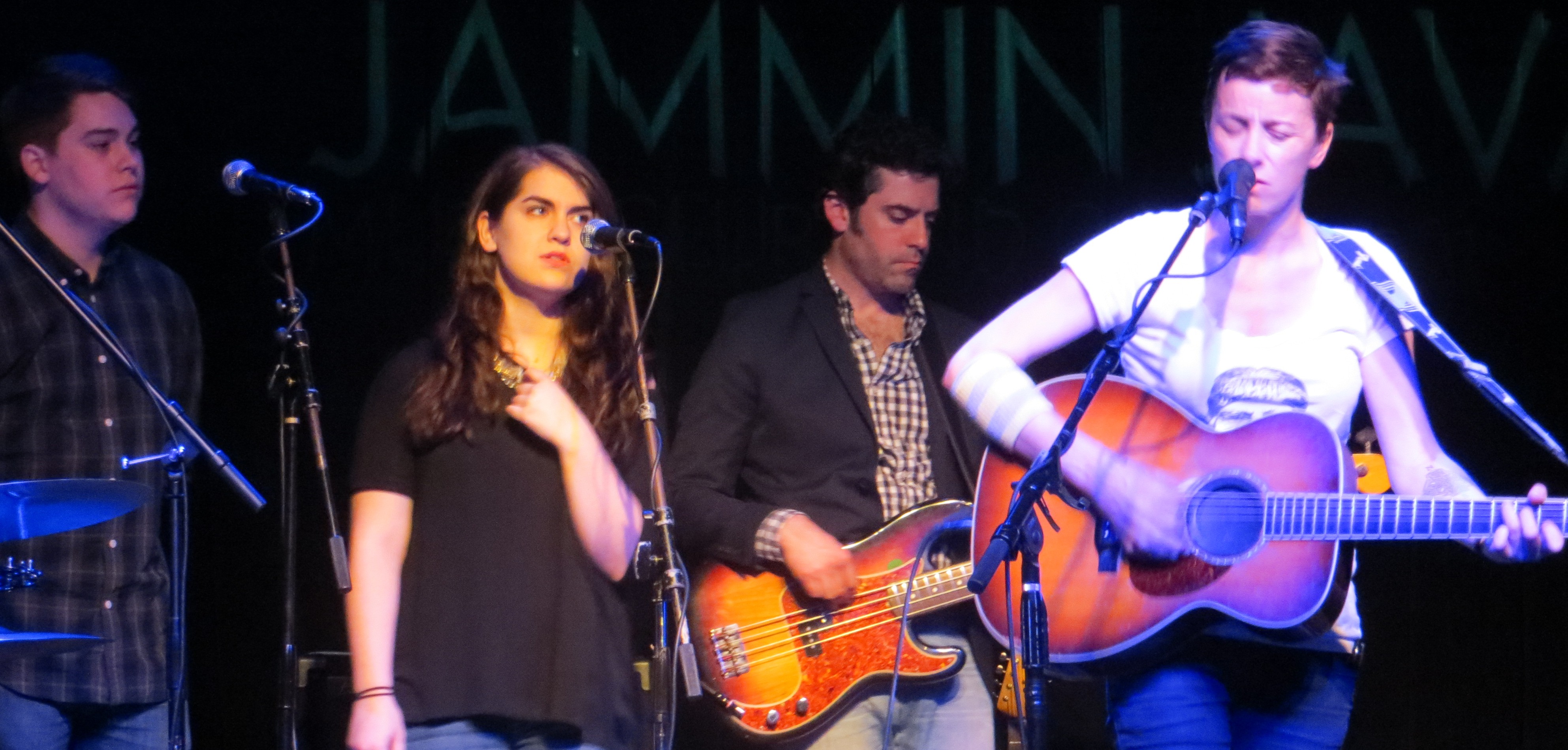 By the way, Melissa is another story and an epic review to come; quite brilliant as an established musician, guitar player, singer, and songwriter, I had not heard her before this gig (shame on me).  Her headline act was jaw-dropping, masterful, and the fact that she endorses 'The Western Den' gives them all the more kudos in the years to come.
Their last is a cover, 'Round Here' by Counting Crows. It's a perfect ending for these two. Flawless vocal brings me, quite honestly, to tears; Chris and his smooth style, and Deni with that amazing classical and contemporary sound. They sing it like they mean it, EVERY time.
"Step out the front door like a ghost
Into the fog where no one notices
The contrast of white on white.
And in between the moon and you
The angels get a better view
Of the crumbling difference between wrong and right.
I walk in the air between the rain
Through myself and back again"
To see The Western Den live is, without exaggeration, perfection. The hard work which they put in is evident, but without the incredible natural talent which they both bring to the table, this incarnation would never be possible. Always on pitch, attention to instrumental detail obvious, and vocal harmonies to absolutely die for. I've enjoyed Deni's music for two years, since her senior high school recital in fact, and always marveled at her musicianship. Chris I've met more recently, and come to embrace as a superb musician, and seriously committed young man. Delightful through and through. Watch out for these two, they will be impressing and amazing for years to come.
Finally, I'd like to give a shout out to the very supportive Hlavinka family, who I've had the pleasure of knowing for years now; they have always embraced my own live performances in Northern Virginia throughout the years (it was my privilege to perform several times on the same stage with Deni). A more encouraging and positive pair you will never meet.  Dave and Patty, you're a force to be reckoned with, and The Fish Pond family can see the results of your care and nurturing approach in the successful young woman who is already yielding results in this difficult industry.
Also credit to Melissa Ferrick (who I did not get to meet) and Ro Rowan (who I met after the show), delightful people and fabulous musicians both, and wishing them the best on the remainder of their East Coast tour, and all success with 'The Truth Is'.  They deserve it.
You can read more about Deni at her Fish Pond profile here, and Chris at his Fish Pond profile here.  Expect much more to come from the Western Den.  We wish them all the luck in the world, Fish Pond family from the start, and Fish Pond family forever.
One world, one family, one musical heartbeat.
David Mark Smith,
Founder and CEO, The Fish Pond
Singer/Songwriter, My Lucky Fish
You can listen to The Western Den's E.P., "Battle Hymns" here.