I first met Deni Hlavinka about a month after launching the Fish Pond family (April 2nd, 2011).  I always found her to be a consummate professional, an excellent natural-yet-educated vocalist, a talented pianist, and a thoughtful and rather brilliant lyricist.  You can catch some of her early work here.  Fast forward nearly three years, and Deni has met Chris West at Berklee College of Music in Boston where they both study; about a year ago, The Western Den was born.  The pair couldn't be a more perfect musical match, and a great example to our Fish Pond family of, quite frankly, "nice" inspirational people.  Chris is Bermudan, all about family, and a quietly brilliant foil to Deni's piano and female lead, with his own unique smooth-as-silk voice and epic guitar style.  This, their second EP, has all the qualities of a cozy family winter night around a fire.  Join me as we walk through this musical Midwinter reflection.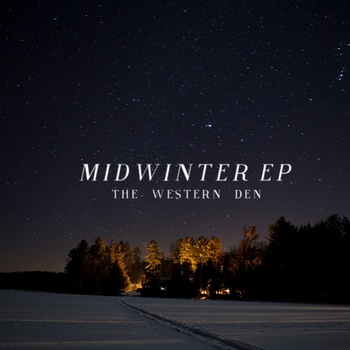 As musical works go, this one is particularly pleasing.  You're not going to get cutting edge new original material; there is plenty of that in their previous work, both individually and together.  Instead, you will get the brilliance of two musicians at the top of their game, putting the best of their talent into these beautiful carols.  Their choice is interesting, choosing two classics ("O Come, O Come Emmanuel" and "In the Bleak Midwinter").  Intertwined lovingly like a surprise gift,they have also chosen a carol originating in Provence, France; the English translation of "Un flambeau, Jeannette, Isabelle" (Bring a Torch, Jeanette, Isabelle).  All in all it's a must listen, in all regards.  Grab some warm gluhwein, a bag of roasted chestnuts, and snuggle up to this winter epic.
Beginning the EP with "O Come, O Come, Emmanuel", a carol based on Psalm 137;  they are straight in with their forte, two angelic voices, in multi-part harmony, backed by a rich, warm piano which is so characteristic of their work.  It's as smooth and velvety as a marble mocha macchiato.  It's a great start, bringing out all of the elements that I love about their work.
You'll hear the simple beauty of both of their voices; the ethereal quality so reminiscent of Deni's "The Dove and the Boulder".  The harmonies are well thought through and executed.  Deni's vocal is glowing; I've heard it range from edgy new material to Italian language opera.  There is a touch of the violin, Chris' guitar is woven in, warm as a father's hug to his returning prodigal son.  The work builds orchestrally, magnificent, and one which would sound amazing turned up to 11 and echoing throughout a domed English cathedral.
"Bring a Torch, Jeanette, Isabella", is a cleverly chosen number, which you can listen to here:
A work translated from the French, the song inspires quiet and awe, "hush", wise words silencing a wondrous crowd as a newborn sleeps.  The original inspired the painting below by Georges de la Tour in 1648 ("The Newborn Christ").  I've taken the rather unusual step of including it because I liked studying it while I listened to Chris and Deni's version of this previously unheard work.  It took me to a nice place.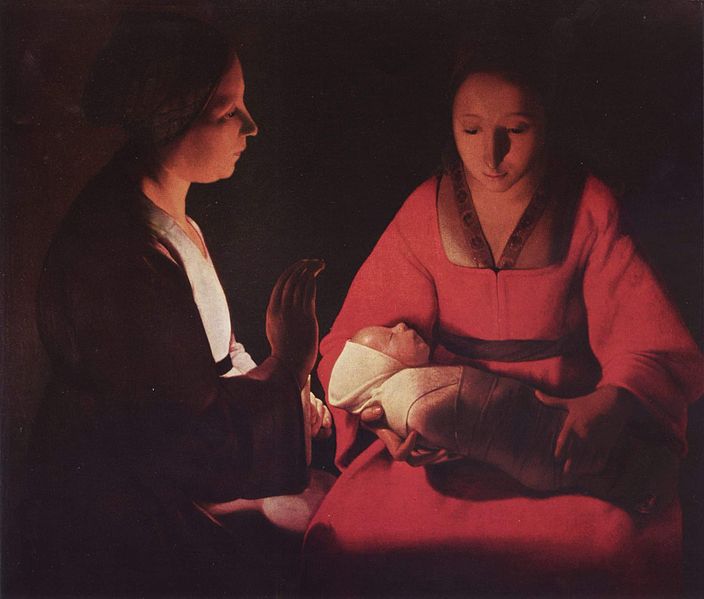 Intro-ing with a beautiful guitar part with what sounds almost like some mandolin overlaid, Deni's vocal is once again pure, clear as a crystal decanter filled with melted snow.  Interspersed with tubular bells and their combined harmony vocal, it's comfortable, peaceful, a Christmas message as old as the mountains yet as ever-present.  It's becoming a theme of the EP now, that symphonic build of each song, until we are brought back to that lovely guitar once again, a touch of violin moving the work along and overwhelming the listener.  I love the idea that the back half of this version of the carol relies entirely on instrumental and non-lyrical vocal effects.  It works.  Like, a lot.
The final track of this lovely, if rather unexpected, medley of carols, is "In the Bleak Midwinter". I've enjoyed the last two songs so much, I'm eagerly anticipating what could possibly be coming next.  I'm very familiar with the carol, but enjoy their mature-yet-embryonic take on each one.  I'm actually really glad to hear that Chris' vocal leads this out.  With two such incredible vocal talents, whether hearing them live or recorded, I love the balance that they carry between them.  This version brings out everything which Chris sets out at the table for the duo; a guitar part filled with clever and well-placed form and technique, which marks Chris out as a very, very proficient player, coupled with his pitch perfect vocal which is a joy to listen to.  He is a master of both.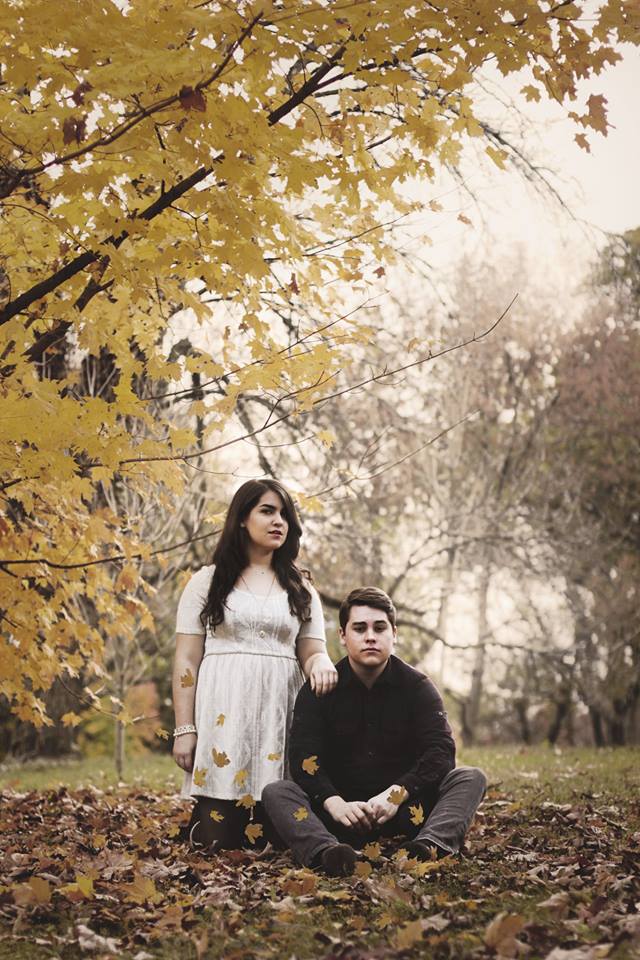 This track is reminiscent of The Western Den I saw live in Vienna, VA, in the first half of 2013, supporting Melissa Ferrick.  Chris and Deni blending their vocals and respective strong instrumental talents like a perfect morning smoothie, fresh, tasty, and leaving you wanting so much more.  It's a delightful carol, and a delightful version, to end this, their second EP.
Chris and Deni, The Western Den, are together a force of musical nature.  The girl from Stephens City, VA, and the guy from Bermuda, two stellar talents, one entity in harmony that was just meant to be.  I really soaked up everything on offer in this EP, it's not forced, it's not seeking to break many boundaries, or to shock; it's taking well-respected family values, educated and natural musical highlights, and putting them to work with their significant creative talent, thereby laying a strong foundation for so much that I'm yet to hear in years to come, and , I'm sure, I will absolutely love.  Congratulations to them both, in the anticipation of reviewing much of their future work.
You can buy "The Midwinter EP" – and I strongly recommend it – as well as their first work, "Battle Hymns", here.
One world, one family, one musical heartbeat.
David Mark Smith
Founder, Global Musicians Fish Pond
Singer/Songwriter, My Lucky Fish
You can read a review of The Western Den caught live in Vienna, VA, in early 2013, here.