Stereolizza is a truly global band on a mission; Lizza and AlecZero have roots in Ukraine, Russia, and Poland, and they are well-recognized across Europe for their brand of sexy Europop; it's the club scene at it's best. They've kept up with the times, and in "Go Back to your Mama", delivered everything I wanted from a dance track; there's a little story, there's attitude, some beautiful imagery from the Mojave desert in the video, and above all a beat that makes me want to be back in Madrid and re-living that long Saturday night in May 2012, at Kapital.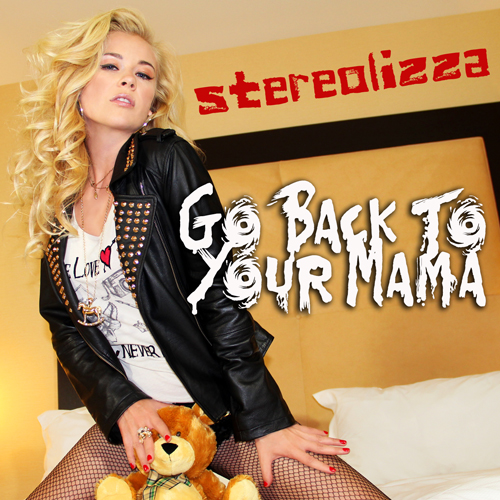 This song is so Euro, it takes me back to my life 10+ years ago, as dance music evolved over the 80's and 90's and into the world of joyful percussive and clever electronica that it's become in 2013. It's great in that it retains everything that I like about the genre; simple, dependable, and the more you listen to it, the more it will stick in your head. Club music like this needs to be strong, simple, continuous, but with a little something extra to make it stand out and get the band signed. And that's exactly what Stereolizza has done here.
You can listen to the song here while you read the review:
The track starts with a nice bit of ambient keyboard sound with Lizza's vocal showcased beautifully to set the rest of the composition up;
"go back to your mama, go back to your mama
too good to be mine, I cannot handle your drama"
And we begin; I love Lizza's voice-with-attitude as the beat kicks in. As I listen to this song to review it, it's a beautiful spring morning, and this is the perfect accompaniment. It makes me want to purse my lips, get some attitude, put my shades on, and say "peace" to the world and drive down some long, open road and do something really badass.
"You gotta let go,
You gotta get low, low"
She tells a story; and I always love the stories that are present in all of our music as we write. It's a vision of empowerment, being with someone, finding them – quite honestly – completely and utterly inadequate, chewing them up, and spitting them out, forcefully, with every word that's uttered:
"Go back to your mama"
The beat is relentless, varied with the electronic backing to give us the right amount of change to keep it interesting, yet predictable enough to make it a solid dance track; in short, the sections repeat enough for you to know what's coming, and really get into it – as with good club music, the song allows you to absorb yourself into the mood of the music and to live it. The sound builds like a wave, and the waves just keep on crashing in.
A really quirky and fitting theme is that there is always a new vehement lyric to enjoy as you immerse yourself in the attitude of the song.
"Don't look at me like that,
cuz you know nothing about my swagger"
The music dies, but the attitude is still there; "vengeance is mine", saith Lizza. I have a wry smile on my face, I'm feeling bold. See, I'm from a previous period, a time of raves, Carter USM, the Orb, Fatboy Slim, and perhaps the best of the era (for me), Keith Flint and the Prodigy. And listening to this, I'm in the perfect mood to collect some next generation beats from our Fish Pond family, mix them up with some old school dance music, and go out clubbing. Maybe to Madrid where Kapital kicks out at 7:30 a.m. 😉
I'll leave the last word to Lizza; with guts and glory like this, how can Sterolizza possibly fail?
"I will say it in your face,
Just like I say it when I mean it,
If you can't keep up with me,
I recommend you beat it"
"Go Back To Your Mama" has been released in Poland, Germany, Austria, Switzerland, Israel, and Greece; the releases in Italy, France, Belgium, Netherlands, and Luxembourg are slated for April 2013.
For more detailed information on Stereolizza, you can visit their profile page here or contact:
Sasha Goldberg PR
Tel. 310-432-3474
Promo@stereozzilla.com
http://stereolizza.com
http://facebook.com/stereolizzamusic
http://twitter.com/stereolizza