Toonyun (Shirley To) is an accomplished singer, songwriter, actress, pianist, and bass player currently living and performing in LA. I met Toonyun on recommendation from the wonderful Margo Rey, a fellow Fish Pond family member and Billboard Adult Contemporary chart resident, who recommended her as a great bass player and a decent person. She joined our global family in January of 2014. A really enigmatic and interesting artist, she is all Los Angeles and seeming-worldly wise all in one artistic package. Born in Hong Kong and attending the Hong Kong Academy for Performing Arts, before moving to LA and attending the Hollywood Musician's Institute, she has a wealth of material from her first 2 EP's, "3" and "Just So You'll <3 Me".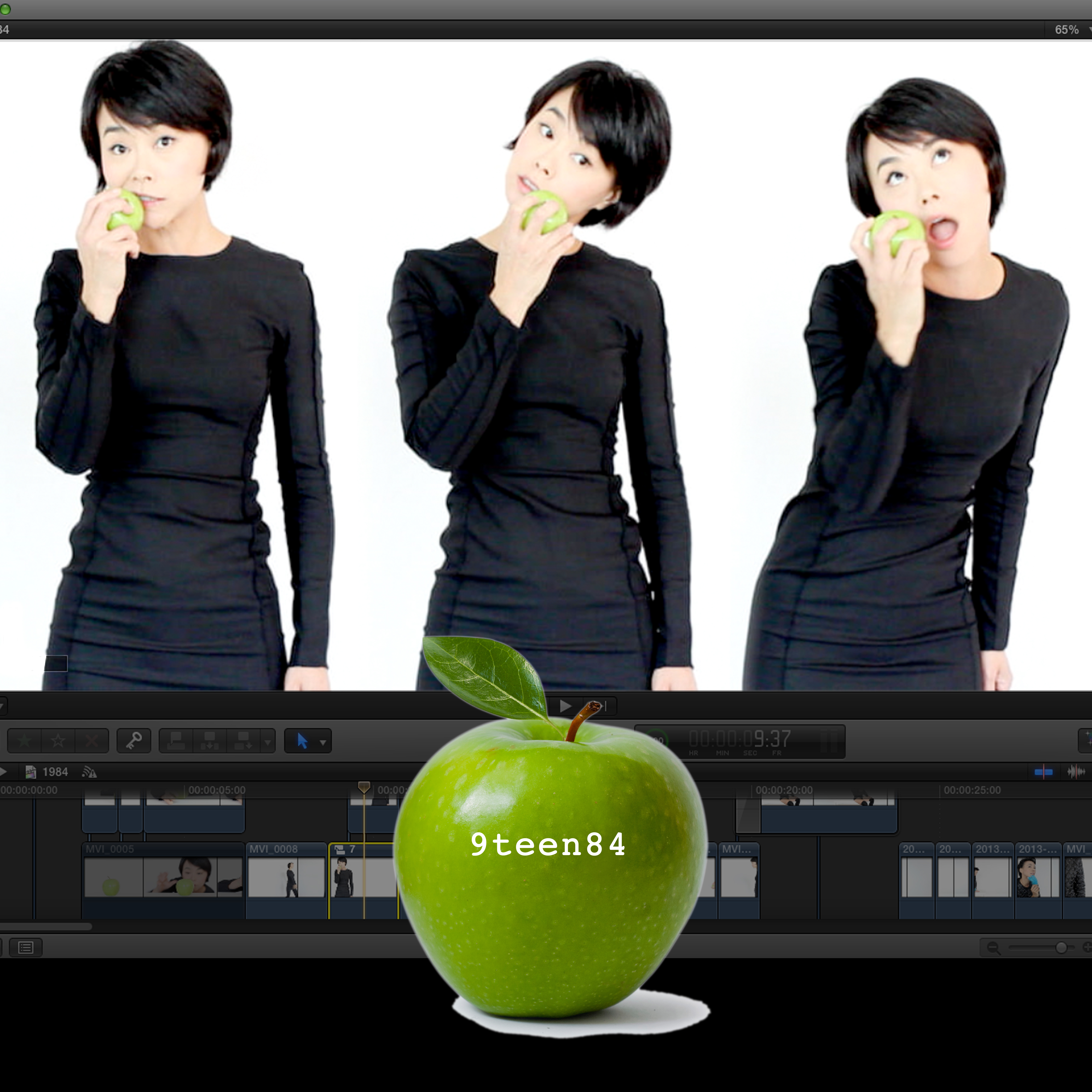 It will soon become evident to you; Toonyun is a passionate musician, and a lover of many styles of music, listing Bjork, Siouxsie and the Banshees, Debussy, John Mayer, Suzanne Vega, and Bauhaus as the first amongst many influences. "9Teen84" is musically nice to listen to, clever, well-crafted, and displays a diversity of styles which I expected when I first read about Toonyun's long career in acting and music to date. Enjoy the video with me here as you read the review.
It's well worth following the backdrop as you take in this song, for its numerous noteworthy scenes. The work starts lyrically much as it means to go on, the words making me thoughtful and slightly worried as I read through them.
"1+1=3
3 can be anything I want it to be
If you can see through my eyes then you'll agree"
Stopping and starting, the accompaniment gives the opening a sense of the ethereal from the start. I have to say, it took me a couple of listens to get used to the heavily-effected vocal over the slightly bizarre instrumentals, but on the 3rd listen, I'm digging it. I really like that little bit of "wah"-ing trombone introduced at the back half of the first verse.
The snare at the end of the verse snaps the song into a poppy chorus, breaking open the capsule, spilling out Bjork-ish logic, and carrying you along on a beautifully medicated wave. I'm thoughtful about the coincidental year of the title,  sharing with George Orwell's novel, which gives the song an extra futuristic, even robotic, tint. The Abba-esque (minus one) band of three Shirleys only adds to the feeling of disengagement from the world, and immersion in the swirling modernist music.
"Don't ask me what this is all for
My life at war
Don't ask me why all my logic's out the door
Undo 1984
The answer's also 2"
It's funky as far as grooving on a Saturday afternoon goes; the lyrics impress me, they feel bold, more meaningful than REM, and yet requiring Einstein's mind to process. The industrial-pop backbeat to the whole song has me moving some part of my body in tempo throughout; the split-image black dog and Toonyun, with a nice transition into a human-art section set to pink ribbon, a minimalist modern-white chair, and Toonyun artfully sprawled, is a perfect visual aid.
"Love is real the world is not
How I feel chases after my thoughts
You know the bird is in tragedy
if the bee plays inside the box"
It's the birds and the bees busy pollinating at an insane pace, at an awkward angle, obstructed by bleak and complex emotions.
There's a gloriously long instrumental in the middle of the song after chorus number 2 – it's about 35 seconds long all told. It's a clever bit of construction, and the video really comes into its own here. There are two distinct sections to the instrumental. The first highlights those freaky metallic drums and the trombone, and the second brings in a beautiful Rhodes keyboard sound, the Doors brought up to date. It's accompanied by a sneaker-clad Toonyun busting some cool moves, a thought-provoking and crazy modern ballet.
Next comes a transition down, which showcases Toonyun's voice as clearly as the song permits, no effects, clear, lovely, and with minimal accompaniment. It's just a short piece to throw us wildly yet willingly screaming into the final chorus, a strong ending, all "logics thrown out the doors", which brings this little space oddity of a work to a climax.
"Don't ask me why I threw your logics out the doors
Undo what you've done before
Don't ask me why I don't sing those songs anymore"
This song is perhaps most like "Golden Lotus" from her previous work, although it's a bit unfair to compare because she's so diverse even within each EP. Toonyun has done an strong job here with a workmanlike performance, with yet another wild departure from the norm (if indeed there is one). It takes some listening and some thought to get fully into the song, but it's clear that it's intelligently put together, musically fun to listen to, with lots of little adds for those interested in digging deeper either into the instrumentals or the lyrics. The video makes this into a work of art (as fellow Fish Pond family member Haikaa might say) by providing a high quality and well-scripted visual backdrop to her latest.
Wishing Toonyun the best with the release of her latest EP, "Fear is Dear", and looking forward to plenty more exemplary work to come.
David Mark Smith,
CEO and Founder, Global Musicians Fish Pond
Singer/Songwriter, My Lucky Fish
You can read an excellent interview with Toonyun here in Asiance Magazine.
You can review Toonyun's pictures and the song here on her Fish Pond profile.
You can purchase all of Toonyun's music to date here at iTunes.