The Sandman's Orchestra; a dynamic duo, with sounds coming straight from the time of egyptian princesses, they define their style as a warm atmospheric folk sound, with touches of minimal dark jazz and electronica.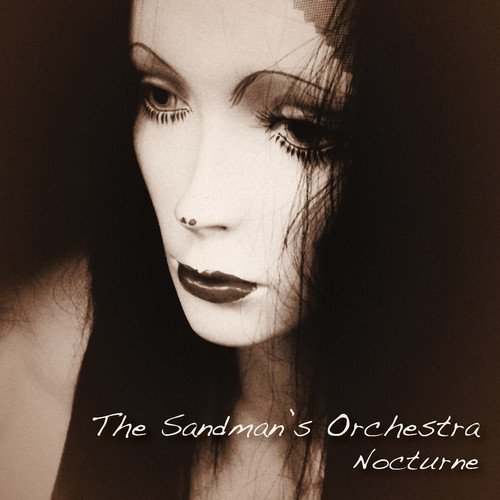 The combination of singer/songwriter Pierre Laplace, and his 17 year old niece Léonie Gabriel is a strong and unique one. They bring together family, music, passion and love in every note they sing. With Pierre's long list of musical instruments he's studied – guitar, banjo, wurlitzer, piano, cello, and drums – there's a limitless amount of creative direction these two can take. They put this into full force in their album, 'Nocturne', to be released on March 25th, 2013. The compilation was not only written by Pierre, but also produced by him as well. Pierre also played the majority of the instruments for the entire album personally, with just a few guests aiding in the final outcome of this beautiful piece of musical art.
From the first notes of their song 'In Your Wake', I was instantly hooked. I couldn't help but picture a scene of exotic luxury, filled with pyramids, Egyptian gods, and this duo luring cobras from their depths with mesmerizing harmonies. Pierre's voice has a slightly raw edge to it, which in contrast to Léonie's airy vocals, creates a golden combination.
Then comes 'Wildfires Of The Mind', which has a completely different flavor to it. A much more jazzy feel flows through the verses of this song. Touches of saxophone from guest on the album David Laisne give an added dimension to the song, and sets it apart from the others as unique in it's own right. Throughout, Léonie carries the lyrics with such a depth and precision; her vocals come across as if she has been singing for many many years.
The duo demonstrate their beautiful harmonies and intertwined style of singing on 'The Dying Light'. A soft and steady rhythm of drums and piano serenade throughout, while well written lyrics drift in; "I see your ghost sweeping past my window, why did I ever have to let you go?". The song sinks deep into the heart, drawing out raw emotion and feeling, allowing you to relate; yet emphasizing, in the way they sing it, that it's very personal to them at the same time.
With a piano based number, 'To Haunt You', Léonie introduces her vocals with far more maturity than you would expect from someone of her age; "In dreams I see you, your arms around me, we curl into an embrace…". You can feel the control she demonstrates as she carries the melody with effortless ease. The song is beautifully crafted; gentle with intentionally placed spaces, the lyrics have the freedom to become haunting and linger in your mind long after the song is over. There are so many delicate touches throughout; a wind chime, bells, a snare drum (to name just a few); the thought put into every measure is evident.
Listening to just a few songs from the album these two have produced, I'm amazed by how 'signature' each one is, while still having a very distinct sound and thread throughout. The skill demonstrated in their musicianship is truly remarkable, and there is obvious dedication to their craft, as their songs and lyrics are beautifully written. The Sandman's Orchestra has something very special to share with the world, and I look forward to witnessing it.
You can hear more from the Sandman's Orchestra here on their profile page;
by Pranam Bai Richter
Head of Global Publicity, Global Musicians Fish Pond
Singer/Songwriter, The Richter Sisters
Contact: pranam@globalmusiciansfishpond.com