Queen Caveat were building something special even before ABC's "20/20: Sunset Boulevard" featured them  deservedly in a 2-hour documentary piece in April 2012. Debuting with EP "Emptor" in 2010, relying on a mix of music-scene-newcomer rage and decent indie rock ballads, they followed up with 2012 effort "Slap on the Wrist".  With this, their second release, they were already establishing a solid formula of dynamic caffeine-infused gritty ground-glass rock with mellow thoughtful songs which made the most of Lauren's siren-scary-yet-vulnerable vocal. Their most recent single, "Mr California", marked their debut and welcome to our Fish Pond family in 2013, and has remained a weekend early morning rock favorite for me to start my day. Here we review their latest release, as they light up 2014 with "Manufactured Happiness".

Queen Caveat comprises the hyper, lunatic ball of energy that is Oklahoma's own Lauren Little, "the voice", carefully stitched together with some amazing musical talent provided by the Grohl-inspired rocking Ben Epand (guitar), studious and thoughtful music maestro Will Weissman (bass), and easy-going hold-it-together party-guy Jesse Magnuson (drums).  The insight of watching their growing pains on Sunset Boulevard was an eye-opener for me; these guys have worked, and worked bloody hard to get where they are.  They have loved and lived Queen Caveat, and having followed all of their material so far, it feels like this is the coming out EP for these guys.  True to their roots and as dynamic as any work they've produced to date, this one is something special; it has high musical quality infused with just enough commercial production to not sell out, but to please the ears of so many. I hope you enjoy it as I surely have.
Starting the album with an anthemic crowd-rousing "Marion", it feels like a good choice to get things moving. Some albums take their time to grab you; with this one, from the very first few bars, it feels like the whole band has caught me by the throat and given me a good shake. This track particularly reminded me of the first time I heard Papa Roach's "Last Resort". It's punchy, driving, punctuated by Lauren's spitting, snarling vocal, and the scene is set. I'd say there was a build; well, there kind of is, but ironically it's the fastest descent into organized beautiful wah-chaos I've ever heard, like being caught in the middle of an unstoppable and ever-escalating glass-fight in a dirty old Edinburgh pub. A powerful and violent 2 minutes and 30 seconds in total, the whole band brings the noise capably, driving the song to a deliciously dirty and distorted demise.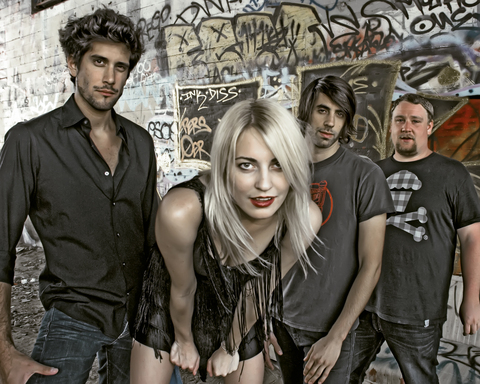 The first single from this EP is "Breathe". One of many great features of this band is that they know how to showcase the diversity of all of the musicians in songs which are similar enough to come together as a cohesive EP, but different enough to make it really interesting to the listener.
Kicking off with Ben's clean guitar sound, Lauren's vocal shows her softer side, particularly some of those lovely catches in her voice, vulnerable, and so very real; even "softer", she sounds like she's been screaming 24/7 for the last 10 years. It works.
Fundamentally, I love the commercial back-beat style of this number.
"Far from the target, you miss it every time,
It's growing like a lie, and I'm over being under-satisfied;
You know I will not listen, but will you listen to me?
I know it is divided, because I still haven't decided what you mean to me"
Bringing in an uncharacteristically soft drum and bass sound with some synth backing, the build to the chorus, and the chorus itself, is beautiful harmony to listen to. I'm struck by the beat, but in a totally different way to "Marion". With a breath-catching tag line ("am I allowed to breathe?"), it's a welcome pause for thought already in the EP, less angry and delivering everything which Queen Caveat is commercially capable of. It's well mixed and very worthy of its status as the first single of their 2014 campaign. With lyrics which are thoughtful and convincingly performed, it strikes me that they haven't succumbed to convention; there is no solo, no instrumental. It's just a well-written and solid number; verse, pre-chorus, chorus, verse, pre-chorus, chorus, chorus, bridge, chorus, outro. It's neatly packaged, it still rocks, but in a milder way, and it does the job.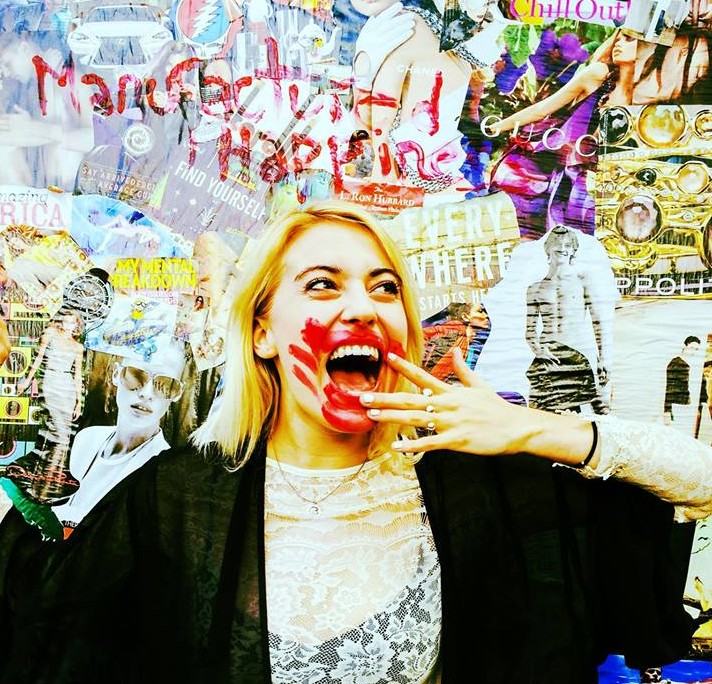 I'm so glad that they've included the seminal "Mr. California", remixed, in its full glory, as the third song on the EP. I've made no secret that I love this track, especially combined with the video, which shows the intensity of the QC experience; Lauren, lizard-like and half-naked, all over the delivery, the band cohesively banging out the performance of a lifetime. You can read everything I had to say about this song in this separate 2013 review here.
A surprise favorite for me is track number 4. "Spine" pumps the brakes a little, or at least takes the pedal off the metal, it's upbeat, with everything that makes me smile about a well-written rock song:
This might sound weird; but "Spine" gives me little hints of the joy I experienced every time I listened to "That Thing You Do". It's the hand-clap, that bounce beat, which, regardless of intent, gives the song a surfer feel, and makes me smile broadly. It's a longer track at over 4 minutes, and it deserves the play-time just because it's that sunny and enjoyable to listen to.
Lauren's voice showcases through the first two verses, pretty and frivolous. It disguises a dark lyrical relationship reflection, despite the nice little synth effects throughout the production; there are some noteworthy beautiful bass runs from Will, giving the song a backbone. The driving chorus gets the point across, picking up the pace, giving me a feeling like I'm confidently chasing the big wave in Point Break;
"You turn your back like you don't see,
Can't be that easy to reject me, why?
You never see me cry;
Now I'm here picking up the pieces,
Pieces of my pride,
Make it right,
You never see me cry"
Again relying on lyrical content, clever writing, and well put together instrumentals (rather than padding with solos), to me this one is the winner of the EP. I seriously hope to see it as the second single on the album, because in my opinion this could do really well in commercial radio play and sales. Love it.
All three of Queen Caveat's EP efforts so far have included one or two ballads, they do it capably, and by this point I'm glad they bring down the pace a little so that I can better enjoy the dynamic changes in the whole work of art. "Brave Boy" fulfills that role. It's a very simple number, clear as a bell, honest as hell:
"Brave boy,
I give you all the things I saved, boy,
I am not afraid;
Even after you protect me,
From the world that couldn't get me,
Hey boy,
I am not afraid"
The back third of the song rocks out, and it's appropriate, actually one of the first instrumental breaks I've heard in the EP so far, before bringing the piece down to its quiet bare bones. The final line seems all the more meaningful when I reflect on Lauren's epic energetic and mad performance art:
"I'm not afraid, of being called crazy anymore"
The EP is rounded out with "Everyone We Know". In keeping with it's companions, it's a solid end, not a stand out, just powerful and well worth a listen. It has beat, it has drive, and it's got all of the ingredients for a hardcore "chill out" at the end of the night. That's not to understate the writing, I love the guitar especially; the riffing tripled across Ben's lead, Will's bass, and Jesse's sticks, means that they can bring the whole EP together in a climaxed high. In many ways, after the really superb and frantic delivery of "Breathe", "Mr. California", and "Spine", "Everyone We Know" is much needed, to bring the racing heart down to normal pace a little, and to reflect on everything that I've just heard in this 20 sweet minutes of madness.
I've listened to Queen Caveat's material for over a year now, all of their previous work, and I really do think that "Manufactured Happiness" is a phenomenon to watch. It's different to "Emptor" and "Slap on the Wrist", both previous EPs filled with strong work, but not as cohesive as this effort. As I told Ben after the first memorable listen to this EP, I'm not blowing smoke. There's something seriously crazy good about the way these songs work together and the mood that they create. It's their break out EP, of that I'm sure, and I look forward to watching it fulfill all of its potential.
And hey guys, what about manufacturing some happiness over here on the East Coast? We'd love to see you before 2014 is out.
David Mark Smith
Founder, Global Musicians Fish Pond
Singer/Songwriter, My Lucky Fish
You can read more about Queen Caveat in their Fish Pond profile here, or at their website here.
You can buy more of their material here on iTunes.