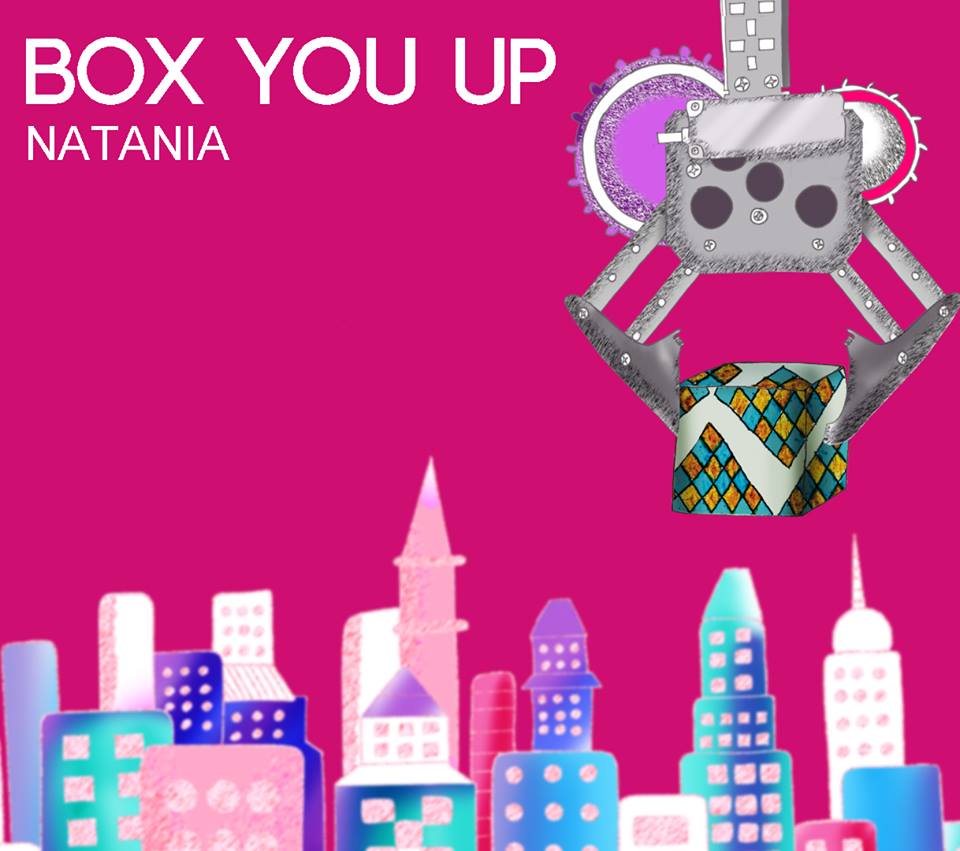 Natania has always been a strong supporter of our musicians family. A truly international artist, with roots in India and an education at Hollywood's Musicians' Institute on the West Coast of the USA, she has spent her early career carving out a distinct pop niche for herself. After her success with EP "Hope and Heartbreak" in 2012 featuring single "Cherry Love", and more recently "The Letter", she's following up with a cleverly written punchy little pop number "Box You Up", planting her musician's hands firmly on two continents as she releases it simultaneously in India and the USA.
As with Natania's other work, the animated video – which in 2012 I wasn't particularly used to or sure of – has become a lovable element of her art.  I always preferred seeing an artist performing in a supporting video, but I've become a convert to this holistic approach to presenting a product.
"Box You Up" is a strong pop song through and through.  It's sweet, it's short at 2:29, and delivers everything that a catchy commercial number should. The lyric is simple, listenable, fun, makes me smile with pretty much every line;
"I'm gonna box you up, I'm gonna box you up;
Make sure they remember if undelivered, don't return to sender,
I'm gonna box you up, Im gonna box you up;
Maybe you will ship across the sea, maybe you will find someone you will meet"
Buried inside this little box of treats are some really clever hooks; the vocal is solid, well produced, with some nice harmonies thrown in. Natania can sing, and despite the simplicity of the track, her sweet voice shines through. There's a little bridge buried in there at just the right moment which is dreamy and slows the pace down until I'm dying to hear that chorus again. There are hand claps, other little effects to listen to (many of which she just produces with her voice), and that lovely simple animation to guide you through the lyric. With Natania, it's a style, a genre, all of her own.
"And yes, you give me feelings they write about,
The movies, the stories we read about;
But if I don't tell you, you'll never know,
and if you never know, I'll never get hurt,
And if I never get hurt, it'll be easy to let you go"
Check out that funky guitar backing up the vocal as she comes out of the bridge. Rockin'.
And there you have it. It's clever, catchy, and perhaps because of the number being so short, it's made me want to listen to it over and over again. I hear this being played as the theme to an HBO series, perhaps a commercial for a "fun" product like a sporty little car. The beautiful thing is, despite the utterly commercial nature of it which many purists might shy away from, it's completely listenable as a song in its' own right.
This is a great example of very educated writing and execution, it's a product that should get a lot of recognition, and also could set Natania up as a ground-breaker in this particular genre. Highly recommended, and I look forward to hearing it across VH1 worldwide very soon.
To hear more about Natania's work, check out her profile page here, or read a review of Hope and Heartbreak, and The Letter.
One world, one family, one musical heartbeat.
David Mark Smith
Founder, Global Musicians Fish Pond
Singer/Songwriter, My Lucky Fish