Maria Bohm is the very essence of distinctive – she has flavors of Tori Amos and classic Kate Bush, but honestly, I've never heard anything like her, or seen performance art of the type she produces.  Born July 1984, after ten years of classic piano schooling and three years of musical university preparation school at Fässberg in Mölndal, she found herself wanting to break free from all the strict rules of music and how it "should be". 'Animalic' is her second album, and delivers an emotional listen for fans of the truly unconventional.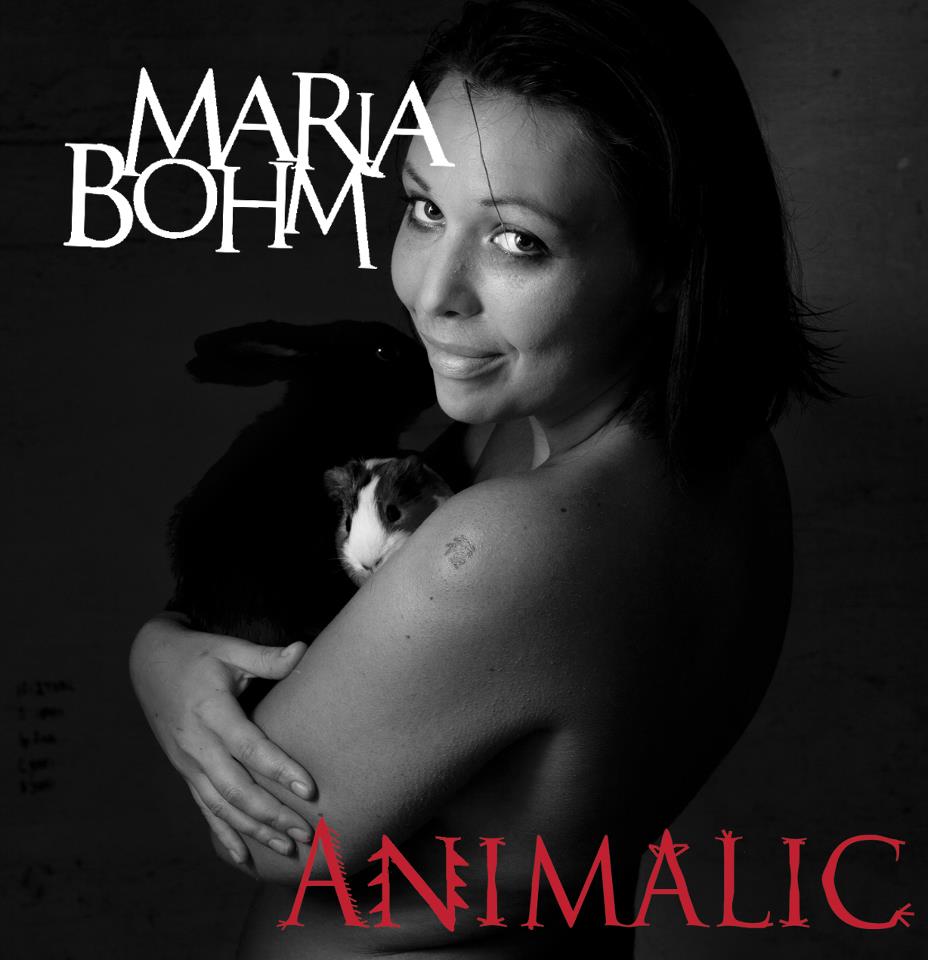 Four songs; I won't even pretend to be able to read the full meaning into these dark emotional creations. The lyrics are intriguing, at times highly disturbing, musically art from chaos, using multiple timings in each song, with a surprising mix of instruments, but above it all that treetop soaring vocal of Maria's. 'Animalic' is a dark episode aired powerfully and no mistake. It's very hard to do it justice in a review like this one, of the whole album, so if you like it, I suggest strongly that you take a listen and judge for yourself. There are intricacies beyond the imagination to delve into at every turn.
Ponies is straight in with the vocal, it's frivolous, yet hides a snarling message in it's dark equine heart:
"Wha-wha-wha-wha-wha
what's up with all the little ponies,
It seems they've found the breadcrumbs
You have hidden in the shed,
and I cannot make friends,
Cannot make nice with all your ponies,
Cause they all seem to know you,
And you know them so well"
It's a "nice" catching tune, with the piano, Maria's main instrument, playing a strong role. There are soft undertones of a minor key which moves into a funky chorus, guitars and spitting venomous lyrics, making the song a mix of fancy-free and pissed off. Unlike Kate Bush's musings, Maria gives this feeling of been truly flipping angry – and she's not going to take it anymore.
"Ants" is the quietest number of the four, the combination of minor chords and Maria's distinct  voice carrying a lovely intro, if still on a slightly horrifying theme.
"Well it's seven a.m. and I still can't sleep,
but I'm trying to straighten out,
And I'm sorry my friend, but stop squeezing my hand,
It's hard enough coming down,
I'm coming down"
The refrain is somehow such a welcome chord progression, but is sure, with its twisting harmonies, to make you mentally itch:
"Those ants, all over my body
Those ants, are fooling nobody"
I listen with a slight frown, especially as the fairground-ish theme kicks in, but still I find myself nodding along to the beat. I've never felt like ants were crawling all over me, but I'm getting my head into this song, and it makes it an ambiguous experience; listening to a nicely put together piece of music, while imagining the horror of…what could this be…cold turkey perhaps. I don't know, but I kind of like it.
"Wasps" – the only thing that could possibly follow "Ants", is as prickly and full of sting as it promises. Drum led, something of a march beat, with a harpsichord driving the accompaniment along. By far my favorite lyric, because it evokes the biggest reaction, is this one:
"and the wasps, they don't make a sound,
They just f*cking go on and buzz around,
Pretending that no-one's crashing down,
No-one's crashing down,
F*cking crashing down,
Well I'm crashing down"
It's not so much the shocking expletives, but the fact that it's so very much in the theme of the album, and is repeated often, as it's the chorus. So matter of fact, it's terrifying in that the feeling is so final, yet so light and breezy in the telling. It's a perfect fit for 'Animalic'. In the meantime, the semi-tone shifts, odd vocal effects, and arpeggiated harpsichord throughout makes this a curious and interesting work, pleasant on the ear, and explosive in the chorus.
Now to my favorite of the bunch – "Little Dragon", which you can listen to here as you read:
I'll be honest about this song. From it's release, I loved the music, but actually pushed the post from the Fish Pond FaceBook page; I felt the content was disturbing enough that it might really upset some of our younger readers. However having listened over and over, I have a fondness for the song, although the theme still makes me cry.
"Goodbye, little dragon,
I always keep my eyes up high,
Just secretly wishing you would land again,
Little dragon,
No matter where you fly you know you're mine,
My love for you will stand the test of time"
A lost child, fond memories of precious days and a life never to be found again, this song is musically the closest to classic Tori Amos. It's more mainstream, it's beautifully written and performed for the recording. I love the harmonies and the drifting instrumental behind the summer morning rain-shower of a melody.
"It burns to be the one to stay behind"
All in all, in many ways this song explains a lot; it's so desperately sorrowful, it gives me much more insight into "Wasps" and "Ants". Asking Maria about this track, she simply tells me; "we've all lost someone at some time or another". It's a nice spin on this work; that it has applicability to many, if you'll just listen to it in the right way.
Listening to this album, and seeing Maria's previous work as I have, these songs are such a mysterious combination. I realize in the above I have mixed adjectives outrageously – "horrifying", "terrifying", "desperately sorrowful", "light and breezy", "curious", "interesting". Perhaps this explains; I watched the "blooper reel" for the making of "Little Dragon" and realized how much of a sense of humor Maria truly has.  She's an enigma, in many senses so dark and troubled, yet capping it all with a smile and a laugh. I enjoyed the listen very much, troubled as I was by the themes and lyrics at times. I'm left feeling that Maria has put out a clever work of art here, and I've just lamely misunderstood the intent behind all of it.
Fittingly, this review will probably make her laugh out loud.  And in doing so she will likely sound like Kate Bush at her best 😉
David Mark Smith,
CEO and Founder, the Fish Pond
www.globalmusiciansfishpond.com
You can read more about Maria on her Fish Pond profile here.
You can support Maria and purchase 'Animalic' here.