Jimmy Marino has been with us since 2012. Growing up in Southern California, he had constant musical input from an early age with mother's preferred Mozart and father's well-loved Judas Priest. Writing his first EP by the time he graduated High School, he moved in the fall of 2011 to Boston, MA, and Berklee College of Music. My first encounter with Jimmy was a rather brilliant rough cut of a song called "Bridges"; taking his time and coming of age, Jimmy brings us his first full-length album, 'A Change of Scene', and with it, shows us all of the fabulous diversity and talent that his formative years and experiences have provided.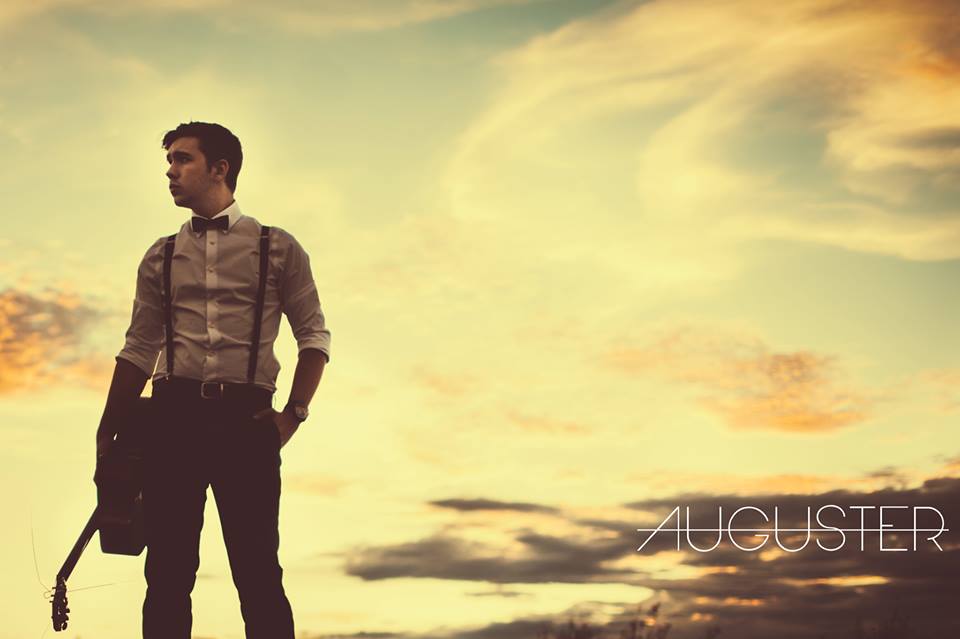 A 13-song epic, I've been expecting a lot from this album for some time.  I'm a genuine fan, incorporating "Bridges" into every set of mine, as the up-beat folky, yet tipping a hat to pop-punk, number that it has become for me.  I wanted all of the unique rasp that Jimmy edges his top notes with, combined with the well-grounded guitar and piano that I saw glimpses of in his early work.  He doesn't disappoint. It's a debut work to be proud of, and I'd be very surprised if Jimmy doesn't get picked up by a major label in the next 2 years.  Enjoy 'A Change of Scene' with me.
You can listen a couple of demo versions (the mastered version is as yet unreleased) right here while you read.
The album starts out with "Intro". It's only a minute and 13 long, but full of lovely effects which tease around the themes of the first number on the album. I haven't heard this kind of start in a while, and it's a refreshing and fulfilling moment, almost like the theme played before a theatrical musical. A lovely build up, which serves for Jimmy to slam into the quite brilliant and obvious single from the album, "Bridges". Note that this is the first pre-release of the mastered version!
Beautifully starting with a simple guitar track, "Bridges" leads in with a teaser of that unique vocal that Jimmy carries so well. It's lyrically very insightful, leading my songwriting partner Rachael Schoellen, on first listen, to nod and ask "how the hell did he get THAT so right?".
"Bridges with no chance we know to break
are the ones that we give more than they can take"
After a wispy and precisely executed chorus, the second verse comes with all of the energy that makes me think of the best pop-punk songs in Jimmy's work. It's acoustic, but it just makes you want to jump around your apartment. This, yes this, is the reason I love to cover this song.
"Coffee cups and unresolved farewells
Can't understand the stories that they tell,
"I love you" was the one phrase never heard,
So that bridge collapsed without another word."
Here is a first great example of the edge to Jimmy's voice. It's a well-written melody, catchy, singable, and yet he makes it unique. In truth it can't be covered precisely by anyone, because his singing voice is one-of-a-kind.
"I will find my way,
to places I have been,
I'm leaving here to try to save,
all my bridges that decayed,
Fix the scars I made that I have yet to see"
Resisting the urge to extend the song, he's kept it punchy, short, two minutes 48, and leaves me with a real appetite for more.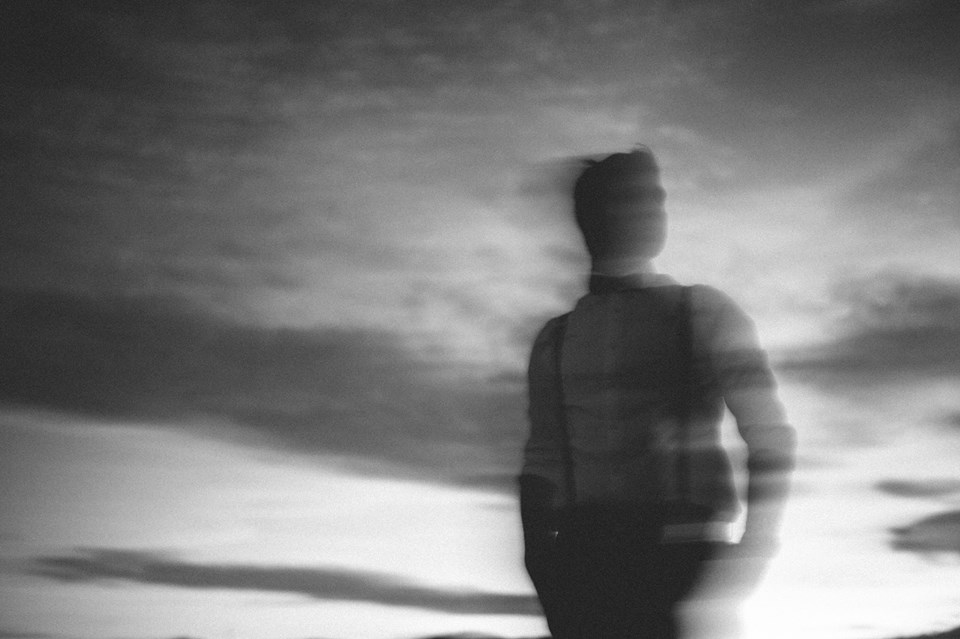 'Sensible Enough' is a solid and nicely executed band number, with some catchy harmonies, the kind of song that will see the masses waving their arms from side to side to the beat – it's a crowd-pleaser. Fourth track "Lost" is a noteworthy song, vulnerable, with guitars that have been beautifully produced. Yet again it holds one of those choruses that's memorable enough to want to sing along with it after only a couple of listens. The vocal feels raw, not over-produced, a little nasal, and it works. "Lost" brings a favorite moment:
"I can't help feeling;
Lost,
Lost,
Lost"
In every "lost" there is a little different natural vocal effect, which will show you exactly what I mean about his incredible talent for singing; strong baritone, then gravelly and raw, then falsetto, beautifully intertwined. Try 3:18 and you'll see what I mean.
California Rainstorm is the next "single" I came across on the album. It stands out from the crowd, and you can listen to the demo version here.
"It's not so dark out with my eyes closed,
but I've never been as lost as now,
it's like a calm collected panic
And I feel my heart in my mouth"
Haunting and well-supported by the instrumentation, it's a lovely first verse, almost showing clouds clearing as he moves into the chorus, using the best of that rangy voice and falsetto again. This one's clearly designed to make you think. Such a beautiful mix of confused and mournful sorrow, until that chorus, and a ray of hope – and I still don't quite know why the chorus makes me feel so hopeful, with the promise of the pouring rain:
"So make your way for the skyline
the clouds are just beginning to form
It looks to me like we're out of time
Cause when it rains it always seems to pour,
It's a California rainstorm"
The lead guitar and strings in the mix after the second chorus are an almost overwhelming build which totally support the feeling Jimmy's conveying with the song. It's the kind of work to get utterly lost in. It's a winner and no doubt.
"Don't Worry About Me" is a frivolous and clever track, up-beat and in-your-face, and once again gives me even more of a sense that Jimmy has some pop-punk in his influences somewhere.
"Tunnels" is a study in how acoustic guitars should be recorded, full in backing, not too many effects or additions, but just perfectly balanced as a lyrical number you'll really want to listen to and understand. He finished off this component of the album with "Interlude", with some Steve Vai and Joe Satriani-ish lead outs, and an anthemic build with vocal, cymbals crash, and then bringing the pace down again with a piano fade out.
"Cannonball" is a really interesting number. Themed and led by the piano, high-end in to start and continuing throughout, there's a ton of feeling poured into the initial lyrics, almost resentful, ripping into it, and then brought down to encourage:
"You know your broken bones,
can go a little further,
But if you just try,
Well you might take back your life…
The guitar solo in this song – speaking as a lead guitarist myself – is immense, it's so supportive of the feeling, and is used to excellent effect, short and sweet.  It makes this all the best of a slamming rock song which relentlessly drives on and on:
"your pride's a cannonball,
you've got it hung around your neck"
"Little Bird" follows, a sweet sentiment.  I find the term "little bird" an amazing and evocative analogy for coming of age, growing, flying the nest, vulnerability and strength, and on and on.  He's done it justice here for sure.  It's an emotional and believable number.  "21" is emotional, speaks to the old adage "Falling in love is easy; staying in love is very special".  Of all of the songs on the album, this one brought a tear to my eye.  Beautiful.
"Moving Day" deserves calling out, and for me, is the third pick on the album for a single.  It's so 'Jimmy' for me.  It's everything energetic, college, California, friends, songwriting, and emotion.  Listen out for the banjo in the backing which I loved as a little touch which made the song.
"When I leave, will you still sing my song?
If I go will you carry me away?
And I'd rather you came with me, cause I'm scared to go alone,
but this is still the place you need to stay"
It's a tough message, but has me smiling and right there with him. As so many of Jimmy's songs, it's empowering and understandable. This is a guy who feels all the emotion of every moment, but is in this life to live it. It's a good feeling – summed up by the "hey hey" in the instrumental.
"When I left, did you still sing my song?
When I went, did you carry me away?
And I'm sure you don't remember, but that sunny afternoon,
For you I know that nothing really changed,
But for me that was my moving day"
Track 13, and we've reached the close of the album. In truth, "Home" is a super closer to the eclectic but sensible mix and story that we've just heard. The now familiar guitar and piano carry a now lonely vocal:
"And there I loved, and there I lost,
What once I thought was mine,
And I was told the biggest lie,
That my wounds would heal with time,
This was the place I once called home,
My heart's been right here all along,
And though I've crossed these roads before,
I'll keep on moving till I'm gone"
It's a great listen, heart-wrenching, and finishing with the sound of a crowd as we fade into the silence of the end of a super album, and the anticipation of the next….
"I've watched my young boy's soul
finally growing strong"
Truth is, I always knew Jimmy Marino "had it" since our first introduction. He's really hit the mark here, taking his time to mix anthemic numbers with ballads, with frivolous and light up beat numbers, with strong and catchy billboard-style singles. Jimmy, your Fish Pond family is proud of you, and glad to have you. Onward, upward, here's to stellar success.
Heard Jimmy Marino yet? Go check him out on his Fish Pond profile here.
One world, one family, one musical heartbeat.
David Mark Smith,
Singer/songwriter, My Lucky Fish
Founder, www.globalmusiciansfishpond.com