Holly is a super musician, with a beautiful simple style, and a voice and guitar style to die for.  She's given us a superb insight into her spring 2013 tour, and blessed we are to share it.  Have a read of all 10 parts here.
Holly, we were with you all the way, and wish you well as you go on the road for the summer.
One world, one family, one musical heartbeat.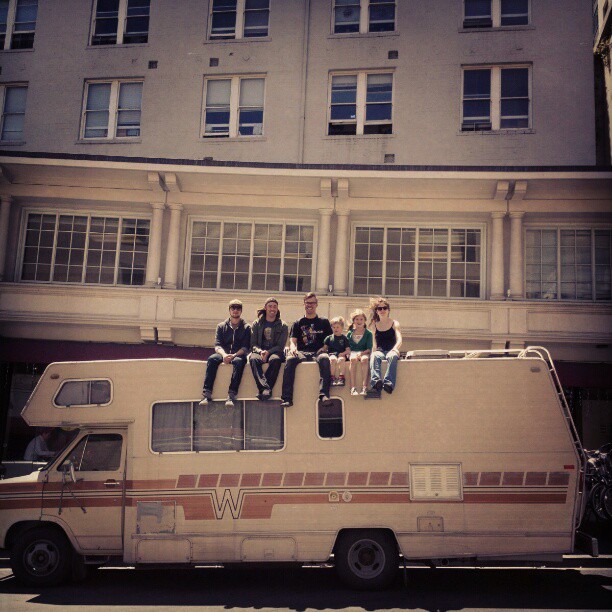 Enjoy Holly's fabulous "Small Town Kids" while you browse her epic journey:
Part 1: Cataclysmic Events
It wouldn't be a tour without some last minute, near cataclysmic event. The problem? No tour vehicle. Our dear Honda Odyssey's transmission, after having been abused on last summer's adventures, bit the dust. Normally this wouldn't have been such a big deal but on this particular trip we have 7 people ages; 5, 7, 19, 30, 31, 33 and 34 that all need to pile in together for 15 shows in a span of 19 days. Our solution became the Landis' RV. After taking her into the shop and an all-nighter with some incredibly generous folks she should be ready to make the trek!
If that wasn't enough, this tour has some additional twists, the first is that I live in Boston now and the rest of our party lives in a sleepy artist community in the Northwest, Sandpoint, Idaho. This means that while Cedar & Boyer (with their two adorable children) and Josh Hedlund are taking the RV to Seattle for their first show, I'll be flying from Boston.
Transportation permitting out first show will be with Chris Staples and The Parade Schedule at the Columbia City Theater in Seattle, WA at 8.
http://theparadeschedule.bandcamp.com
www.christaples.bandcamp.com
Part 2: Cedar and Boyer Reunion
After reuniting with Cedar & Boyer we played our first show of the tour with Chris Staples, The Parade Schedule and Andy Fitts in Seattle at Columbia City Theater. Urban camping is somewhat our lifestyle now with the RV. In our downtime before our set we played soccer and broke out the sidewalk chalk. Now we're off to Portland for a show on the 15th at The Laurelthirst Pub with Brad Parsons and Anna and The Underbelly.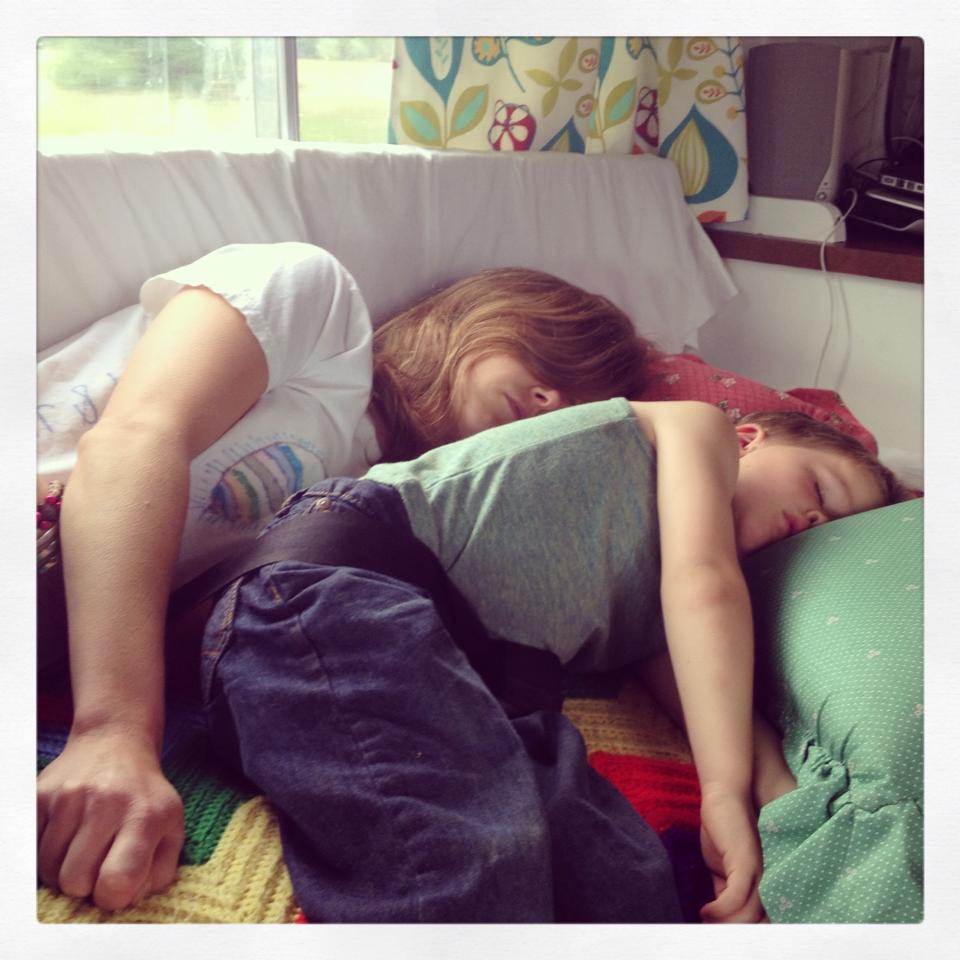 Part 3: The Generosity of Strangers
The generosity of strangers can be astonishing and the family/community you build on the road is equally so. Portland has long been a home away from home for me having started playing in the area with artists like Shook Twins when I was around 15. This trip we stayed at the Shook residence just off of Alberta St, a Mecca for hipsters, young families and artists alike. We parked the RV ( lovingly called Erv) out front and spent our day off rehearsing new material, jamming with resistant kids band, Luck Dragon and strolling Alberta St. At trade up music we browsed basses and resonator guitars and enjoyed the BEST ice cream I've ever consumed at Salt & Straw. We finished off the evening with a soccer match with the Landis' two amazing kids, Ani and Miles. The next day we played at Laurelthirst Pub in Portland. We decided to stay that night outside of Portland in Sandy with Mel and Joe Davis. You meet some amazingly kind and giving people on the road and they are no exception. They made us dinner, let us wash our clothes, gave us beds…incredible, absolutely incredible. The show (with Anna and the Underbelly and Brad Parsons) was slightly rocky at the onset, many friends in attendance but like many venues it was 21+ which I unfortunately am not. I had to wait outside the bar and wait for my set but fortunately I have incredible friends and fans who took turns visiting me outside the bar. When my set came up we shared a single mic and the stage with the amazing Anna Tivel and Josh Hedlund. After the show; Jen, Justin, Josh, Erin and I went out to find some food and parked in front of another bar in front of a Coca-Cola factory. It may sound hokey but I realized in those moments just how much I truly live them and the life they allow me to lead.
Part 4: A Handful of Bananagrams
A few forgotten water bottles, a handful of Bananagrams and an identity theft later we were out if Sandy and on our way to pick up Josh Hedlund and Erin Brannigan to complete our family circus. Our show tonight is with John Shipe at The Axe and Fiddle in Eugene, OR. We picked up the gang in a rainy Portland and made it down to Cottage Grove for the show. In our downtime we played an epic soccer match down the street from the venue. Axe and Fiddle itself was amazing; resteraunt, bookstore, venue all in one. Lots of older hippie farmers and incredibly nice soundmen and bartenders. In classic road warrior/urban camping style we all slept in a parking lot last night and were on the road again first thing to make it to the next show in Eureka, CA tonight.
Part 5: Eureka Fallen
On the way to eureka we stopped at a gas station and picked up an elderly man who had fallen and cut open both of his palms. We to home to a hospital and continued on our way down the highway. Our first glimpse of the coast we pulled over and ran around the beach then onward to the supposedly haunted Eureka Inn for a show with 8 Dollar Mountain.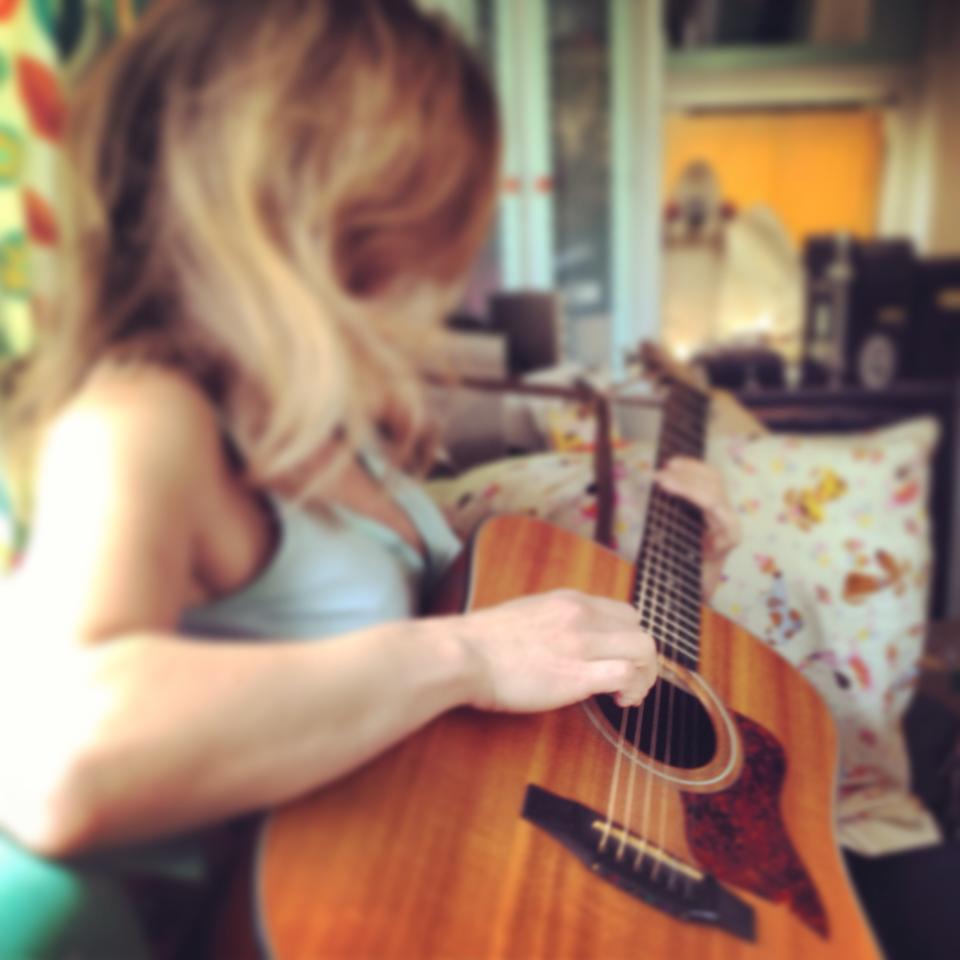 Part 6: Family, Flesh, and Blood
Sometimes the family you find on the road is actually flesh and blood. For our Winters, Sacramento and Sam Francisco shows we're staying with Jen's brother and sister in law. 9 people, one bathroom. We all had our first shower in a few days so morale was high going into our show at Marilyn's on K. We opened for a Chicago Blues band and played our hearts out. We really came together last night as a band. I DD'd after the show and made an In and Out Burger run with everyone. Thrift storing, fishing and Berryessa Brewing Co tonight in Winters.
Part 7: California Sunshine
Another trip to In and Out Burger, one thrift shop and a hardware store later we're on the road to Winters to play Berryessa Brewing Company. On the way we made more of Josh Hedlund's record ( available at www.joshhedlund.bandcamp.com) and arrived in a vineyard type area off the highway. Berryessa was a great family atmosphered brewery with fantastic outdoor seating. We got to play out in the beautiful California sunshine. A parking lot soccer match with kids and parents followed our show and now it's off to play San Francisco tomorrow evening.
Part 8: Acoustic Bistro
Acoustic Bistro today in San Francisco and our first time working with KC Turner Presents. Tomorrow we have the incredible opportunity to play on Daytrotter Sessions, where people like J Tillman and Andrew Bird have recorded as well. Finding parking in an RV was mercifully easy with our ninja driver, Justin Landis. The show with Decker and Kristin Blinman was incredible! KC Turner runs some exceptional showcases in the city and thus was no exception. We decided to caravan with the band Decker to San Louis Obispo for our next show. This morning though we got the INCREDIBLE opportunity to record Daytrotter Sessions. The programs is very widely known and many of our personal Herod have recorded on it. Keep an eye out for the session.
Part 9: Family Outside of San Louis
The Sandpoint net as well as that of the folk music community if far reaching. Just outside of San Louis we found an ex Sandpointian who called us family and gave us a place to keep Irv for the night. Parked along the ocean with some if my favorite beings and doing what I live it's hard to complain. In SLO we met up with the members of Decker who we'd played with in SF. The show was fun, food was good and we successfully avoided being ticketed. Today we're playing Fresno Brewing Company and staying with Justin's folks. That means a well deserved day off the road for Ani and Miles who have fared the long car rides better than we have in all honesty.
Part 10: Final words on the Family RV Tour
Living on the road for any space of time will leave you with some life lessons, an empty stomach, lighter wallet and a heap of stories. Add an RV from 1976, seven people ages 4, 7, 19, 30, 31, 34, 34, and a 15 date tour and you're really in for something.
One huge thing that I came to realize and value in the course of the trip was the kindness and generosity of strangers. We stayed with Luck Dragon, an incredibly talented duo who play children's music. A family originally from our town who believe in taking care of their own housed, fed and played Banannagrams with us. Most venues fed us, let us bathe in their sinks, sleep out front and didn't mind our puffy eyes and dirty clothes in the morning after a show. Another hometown couple who had relocated to SF even bought us a hotel room. Showers! That's what that meant, it's amazing what having a clean crew can do for morale.
I also realized just how important your travel companions are. Some family you find, I never could have imagined living with the Landis', Brannigan and Hedlund before this grand adventure but now we all just want to hop back into Irv and onto the road. Not only do we love each other's music, we also just love constantly being around one another. Having the kids around made us all into a parenting team, playing hopscotch and soccer on the sidewalk outside the venues. There are so many ups and downs and in betweens on the road that it's so incredibly important to have people who pick you up when you're having a rough day or night.
Fortunately I'll be on the road again next week touring with Harold's IGA, so it's back onto the open road! Woop! Hope to see you all out there somewhere down the line.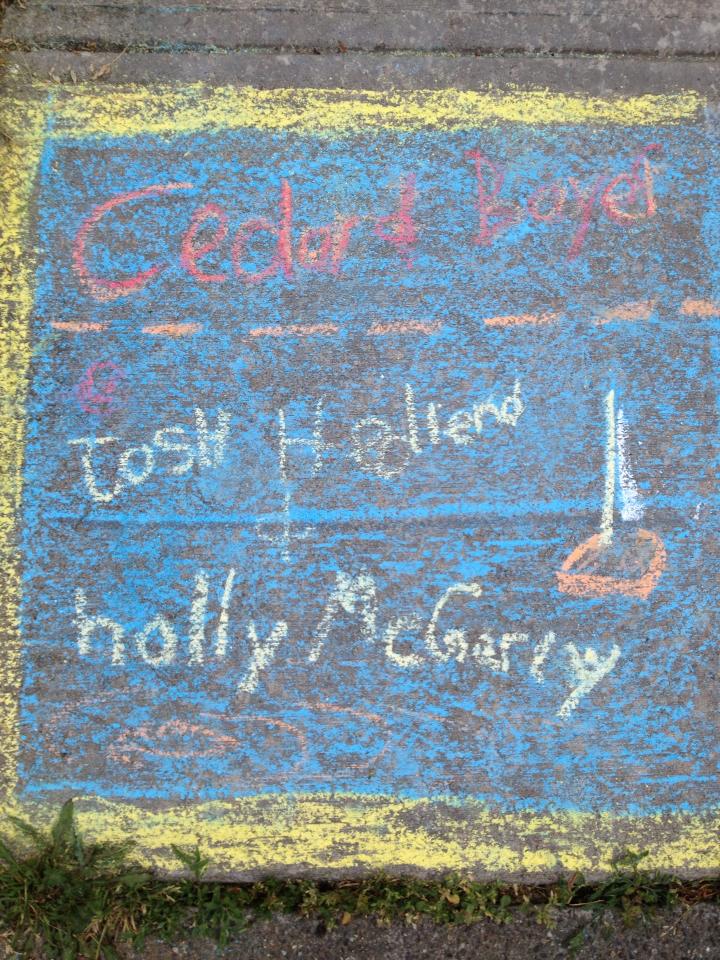 Holly
You can read more about Holly at her profile page here.
www.joshhedlund.bandcamp.com
www.cedarandboyer.com
www.hollymcgarry.com
(you can find some of Erin Brannigan's artwork via facebook)