The first time I experienced Christian Lopez live in the fall of 2012 in Winchester, Virginia, I realized that my musical bar would be forever raised. Let's get specific. Christian leaves absolutely everything on the stage; he's a brilliant performer who clearly adores the process, the stage, and his audience; and he's been working hard touring solidly for the last couple of years to show it.
With a firm set of family values, and seeming constant support from his parents (his dad Jamie, I note, has driven "100,000+ miles" with the band), he's been honing his skill and his sound for a long time, despite his relatively few years on this earth. He's now surrounded by a tight and capable group of musicians under the moniker of "The Christian Lopez Band" – that is, Michael Silver on drums and percussion, Chelsea McBee on banjo and vocals, and Joshua LeBreton on bass.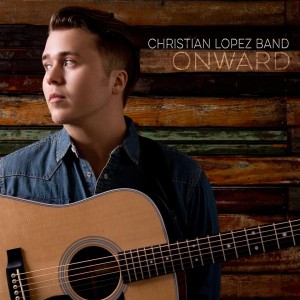 I've reviewed Christian's work before so was excited to hear the next step. True that I was expecting the standard to be very high. "Onward" surprised me; it is a quality listen, and a worthy album, but didn't play out in the raw and rough-cut diamond shape that I'd assumed. It's altogether a different listening experience to "Pilot", or his previous "Masters" series of singles. The tracks below were the stand out items for me from this latest work.
Kicking off with a ballad, "Take You Away" illustrates my point. To all intents and purposes it's country; but not the kind of balls-to-the-wall, Johnny Cash fast-paced railroad country rock which I've grown used to. A beautiful pairing of piano and guitar leads the melody along:
"Took my photo this morning,
Pushed off my hair in the way;
Prohibited smile, wasting a while
Plotting my getaway"
His soaring voice, paired with Chelsea in harmony throughout, is everything I hoped for through the chorus, and I'll be surprised if it doesn't grab you in this first number.
Crowd-pleaser "Will I See You Again" is at Track 5. This is at the apex of what I find interesting about this album effort. The song has appeared before, twice actually, pre-"Pilot" in the Masters series of singles, and on "Pilot" itself. There are numerous versions on YouTube that have that super-fast stripped down live "edge" to them.  They are what I'd come to consider Christian and his band to be all about. However this version gave me a new perspective of their offering.
It's a paradox, as I read that Dave Cobb's production of the album has brought much more of a raw and "real" feel to his sound. It's becoming obvious to me that this rawness is achieved with more instrumentation and more emphasis on Christian's unfiltered vocal, and perhaps fewer (or no) effects. Slowed-down, with Hammond-thrown in, some well-placed piano, it's altogether a different song. Yes, it's lost some of the magic of the trimmed-down hillbilly stomp, but it's honed for a much, much bigger audience, and I can appreciate it for these very different qualities. I still find myself singing along to every word. Let's face it, it's always going to be the one to beat from Christian's early career, like it or not.  "The Man I Was Before" (Track 9) is the second track from "Pilot" with a pretty serious production makeover which keeps that vibe of continuous improvement.
Picking up on that classic Americana-country feel with "Seven Years", there are gems of harmonies, the guitar-picking and strumming in the background (by the way something which Christian is absolutely flawless at).  The solo section (2:17-2:42) is first rate, showing off the strength of the plucked string section of this band.  The following "Pick Me Up" is a solid track, it's rocky, it's edgy, it leaves me stomping my foot and nodding my head. It also stands out as the first time I have heard Christian curse; albeit "f*ck it up" is surely the most excellent rhyme to the title he could possible have come up with – nice one.
Closing out with "Goodbye", a wispy and thoughtful track, the song brings the pace of the album down well;
"Who you are, what you'll be,
Is all the same damn thing to me,
So go and make it right,
Goodbye"
I hope you'll have picked up that I consider "Onward" to be a very appropriately titled album. The man from Martinsburg hasn't risked producing a completely different sound, nor has he given us a set of songs in his classic genre. He's developed and crafted and transitioned and diversified, learning from his multi-state audiences over the months and years, and has created a work which makes he and his band more than ready for the mainstream. It's highly listenable, commercial, and I can identify with it. He might not want to produce pop music as such, but there's no denying that this will serve the masses in the heartland.
Ever onward, and perhaps his next effort will be titled "Upward". I believe, and have always believed since that first live performance at a pub somewhere in Virginia, that Christian Lopez and his band are on a path to greatness. This effort did everything to prove that he's on the right track.
You can buy the album on iTunes, and check out Christian's profile  with former band Joe Taxi on the Fish Pond, as well as finding more information at his website.  If you liked this, have a read of my review of his four singles released prior to the "Pilot" EP here.
David Mark Smith
Founder, Global Musicians Fish Pond
david@globalmusiciansfishpond.com